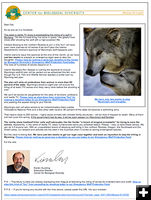 CBD email

An email sent from CBD, seeking money for legal action to stop Wyoming from managing wolves.


Cashing in on Wyoming wolves
by Cat Urbigkit, Pinedale Online!
August 25, 2012

The U.S. Fish and Wildlife Service has stated its intent to delist wolves in Wyoming soon, allowing the species to become managed by state officials. The Center for Biological Diversity is using this opportunity to "prepare an emergency legal case to stop the slaughter," referring to Wyoming's wolf plan, which provides for a wolf-hunting season, which CBD calls a "wolf-massacre plan."

The CBS suggests "generous" donations are needed to fund the legal case, noting that the Wyoming plan would allow "wolf families" to be killed in 80 percent of the state, neglecting to mention that Wyoming's wolf population is concentrated in the northwestern portion of the state.