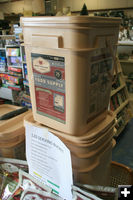 Stackable Buckets

Durable plastic buckets protect the food and are designed to be stackable.


Pinedale Food Basket offers freeze dried food
Available at a discount until May 15th
by Dawn Ballou, Pinedale Online!
April 28, 2012

The Pinedale Food Basket has ordered a large supply of freeze dried food and is making it available for purchase by the public at discounted prices until May 15th. The Pinedale Food Basket is a community thrift store which, through proceeds and donations, helps feed those in need.

The freeze dried food is ready to eat simply by adding boiling water. Each packet is sealed in a mylar packet and contains enough for a serving for four people. Foods available include main dishes, breakfasts, fruits, vegetables and desserts.

Meals include pasta Alfredo, Teriyaki and rice, stroganoff, pasta and vegetable rotini, stroganoff beef, southwest style chicken, roasted chicken, teriyaki chicken, chili macaroni, cheese lasagna, tortilla soup, tomato basil soup, creamy a la king and rice, long-term instant rice, cheesy beef, roasted beef, corn, peas, broccoli, green beans, mushroom sauce, cheese sauce, cream sauce, butter sauce, bananas, peaches, strawberries, apples, yogurt style dessert, vanilla pudding, brown sugar and maple multi-grain, crunchy granola, and vegetarian dishes.

These foods are excellent for quick meals for camping, backpacking and trail riding. These packets are compact and light weight, with minimal storage space needed. The plastic buckets are stackable and have a handle for easy carrying. The average cost per serving is less than a school lunch. The special bucket price being offered by the Food Basket is approximately a 20% discount from regular retail prices.

Because these packets have a 25-year shelf life, they can also be used for long-term emergency food storage supplies. If you have concerns about the future and think it is best to be prepared, these freeze-dried food buckets offer an economical solution. If something were to happen and food could no longer be delivered, these emergency freeze-dried food supply buckets give peace of mind of knowing you have your own storage of a supply of food without the hassle of dealing with food spoilage before being used. The long-term shelf life eliminates waste and the need for frequent rotation due to expiration dates.

These products come in buckets 60, 85 or 120 servings. The buckets cannot be broken into smaller quantities. For those who might want lesser amounts, the Food Basket suggests going in with family members or friends to buy a bucket and then splitting the contents amongst yourselves as you see fit.

Wonder what this food tastes like? The Food Basket is offering taste tests! Just stop by the Food Basket and they will be happy to let you try these foods for yourself. If you cannot make it down to the Food Basket for a taste test during their normal business hours, you can call them to arrange an appointment for another time that better meets your schedule.

The special bucket price offer is good only until Tuesday, May 15, 2012. Businesses and individuals can also sponsor a bucket, which in turn would be given to a needy Food Basket client who may not otherwise be able to afford long-term food storage for their family. Sponsoring a bucket might also be a fundraising idea for service-minded youth, scout groups and charitable organizations who want to do a project to raise money to a buy a bucket on behalf of a needy family.

Again, the special discount price offer on these freeze dried food buckets is only until May 15, 2012. Credit card payment is available through AA Survival Supplies, owned and operated by Gary Capron. The Food Basket is located at 104 N. Bridger Avenue in Pinedale. They are open Monday, Tuesday, Thursday and Friday 10:00AM to 4:00PM and Saturday from noon until 4:00PM. They are closed on Wednesdays and Sundays.

For more information, please call 307-367-3206 or email thepinedalefoodbasket@gmail.com.