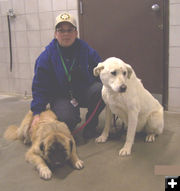 Livestock guardian dogs

Sweetwater County Animal Control Officer Chris Thomas with two Great Pyrenees mixture sheepdogs picked up near the Wyoming-Colorado line in 2009. The Sheriff's Office is asking that people who spot large dogs like these in remote areas not pick them up, but report their location to authorities. Photo courtesy Sweetwater County Sheriff's Office.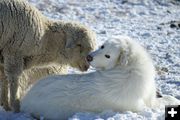 Sheep Guardian Dog

Rena is a sheep guardian dog that works on a sheep ranch in Sublette County, Wyoming. Photo by Cat Urbigkit.


Livestock and sheep guard dogs aren't 'lost'
by Sweetwater County Sheriff's Office
April 12, 2012

The Sweetwater County Sheriff's Office issued an advisory concerning livestock and working sheep dogs.

Sweetwater County Sheriff Rich Haskell reminded motorists to be alert for livestock on or crossing roads and highways throughout the county.

"There's a lot of open range along our thoroughfares, and a lot of livestock," he said. "We're asking people to slow down around horses, cattle, and sheep on or near roadways. A little watchfulness goes a long way toward avoiding crashes."

Haskell also said his agency regularly handles a number of cases where people pick up and turn in to County animal control officers large dogs found in remote areas of the county.

"These large dogs are found a long way from residential or business areas. Most often, they're not strays or dogs who have been dumped, but working sheep dogs," he explained. "People pick these dogs up and bring them in with the best of intentions, but problems result," Haskell explained. "Once they've been removed from their working environment for any amount of time, they often lose their working skills and females may have litters of pups hidden in the area."

County officials are requesting that people encountering large dogs in remote areas not pick them up, but note the location and notify the Sheriff's Office instead.