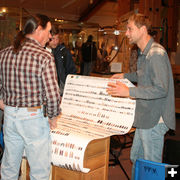 Talking archaeology

(L) Former BLM long-time archaeologist Dave Vlcek talks with (R) archaeologist Mike Page about projectile points found in the Upper Green River Valley.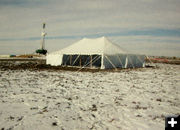 Winter dig

Archaeologists are able to continue excavation work through the frigid Wyoming winter months by covering sites with tents and using heaters inside. Photo courtesy Current Archaeology.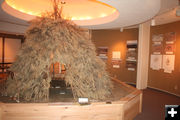 Archaic Camp

Conceptual best guess representation of what the house structure might have looked like 6,000 years ago on the Mesa south of Pinedale, based on the archaeological evidence. This display is in the Museum of the Mountain Man in Pinedale.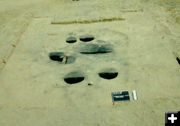 House pit site

House pit sites have a fire hearth and perimeter holes indicating post support structures. It is not known exactly what the structures looked like (conical, teepee?) Photo courtesy Current Archaeology.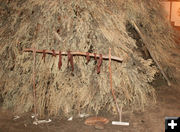 Rabbit meat

5,000-7,000 years ago, when the climate was much hotter and dryer, the available food source was primarily small animals such as rabbits and sage grouse, rather than big game mammals. When the climate became wetter in more recent times (in terms of thousands of years), larger animals remains are found in area archaeological sites.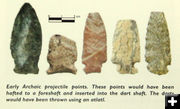 Projectile Points

Dart points used on an atlatl, dated back 3,000 to 7,000 years ago, before bows and arrows came into use.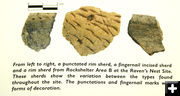 Pottery

Pottery is relatively rare in the Upper Green River Basin. Pieces that have been found are usually sherds, rather than intact pottery objects. Some of the pieces have puncture holes and finger nail impression detail work as decoration.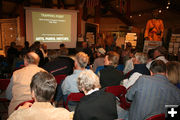 Big turn out

A big crowd turned out for the archaeology talk at the Museum. The program was sponsored by Pinedale Anticline operators Shell, Ultra and QEP.


Upper Green River Valley archaeology update
Archaeologists give updates on recent finds
by Dawn Ballou, Pinedale Online!
October 27, 2011

Three Pinedale Anticline gasfield operators sponsored a talk at the Museum of the Mountain Man in Pinedale on Tuesday, October 18th giving an update on archaeological finds from the past summer's work in the Upper Green River Valley. Shell, Ultra and QEP sponsored the program as part of the regular meeting of the Upper Green River Basin Chapter of the Wyoming Archaeological Society.

Special guest speakers were Wyoming State Archaeologist Dr. Mark Miller from Laramie; Archaeologist Mike Page from Office of the Wyoming State Archaeologist in Laramie; and Bill Current, owner of Current Archaeology from Rock Springs.

Two things stood out in the presentation:
1. There is a lot of evidence of people living in the Upper Green River Valley 5,000 to 7,000 years ago during the "Archaic" time period.
2. There is still no confirmed evidence of pronghorn antelope remains in the archaeological record north of the Upper Green River Valley.

Trapper's Point
Dr. Mark Miller, Wyoming State Archaeologist based out of Laramie, gave an update on the archaeology near Trapper's Point, located about seven miles west of Pinedale in the US 191 highway right-of-way.

Excavation was first done at the site in 1992 as part of the highway widening and right-of-way work. Archaeologists found three levels dating from about 4500 to 7800 years ago with pronghorn bone remains. Evidence indicates this was an pronghorn kill and processing site. Analysis of tooth eruption and fetal bones indicates the animals were killed in the spring between February and May.

Miller said their analysis indicates the pronghorn being killed were larger than those of today. "A lot of bone from Trappers Point is 10% larger than present day. The mature pronghorn were roughly 10% larger than they are today," Miller said.

Analyses is still being conducted to determine if the remains were from a single mass kill or several kills closely spaced on the landscape. They are also doing bone and tooth enamel chemical testing to see if they can determine where the animals came from geographically over the landscape. They are working with the Wyoming Game & Fish with modern day bones of adults and fetuses to get analyses and measurements to compare with the archaeological remains.

Game Creek Site.
Mike Page, an archaeologist with the Office of the Wyoming State Archaeologist, has been doing excavation at the Game Creek site located near the Snake River along US 191 south of Jackson, Wyoming,. Archaeological excavation work is being done on both sides of the highway where they have found remains that date to as long as 10,000 years ago.

"The Game Creek site has the potential to shed a whole lot of light on archaeology in Wyoming, and in the Upper Green River Valley," Page said.

When asked the touchy question of whether or not they have found any pronghorn bones yet in any of their digging,

Page answered they have "a definite maybe." The question is relevant because of the prominent environmental push over the past several years called "The Path of the Pronghorn" which promotes the theory that pronghorn have migrated from the Red Desert to the Jackson Hole Valley for 6,000 years, however archaeological evidence does not yet support that claim. To date, no pronghorn bones have been found in any archaeological site in Jackson Hole, or north of the Upper Green River Valley.

Page said the public is welcome to stop by the dig site anytime when they are working. The archaeologists are always happy to take the time to give a tour.

Archaeology of the Upper Green River Basin
Bill Current, owner of Current Archaeology from Rock Springs, has been doing work in the Pinedale Anticline and Jonah Gas Field. His crews work with gas field companies to investigate finds encountered during gas and oil field development, pipeline excavations, construction of new roads and well pads, power line surveys, and other projects.

The archaeologists have a lot more data now. In the last 15 years more than 5,500 additional sites have been documented. "We have lots more puzzle pieces to try and put the picture together," Current said.

In the Upper Green River Valley, archaeological sites date from recent to more than 7,000 years of age.

Archaeologists are finding surface sites, rock alignments, bone beds, animal sites and ancient game processing areas.

Sites have been located in all settings from very high altitude mountain locations to foothills, to desert sites miles from water, to riparian areas. Artifacts being found include projectile points, lots of hearths, fire pits, and different types of pottery. Current said they are finding evidence of a significant amount of local material for projectile points, which appears to come from quarry sources within a couple of day's walk of the sites.
From all this information, archaeologists are beginning to piece a picture together to start creating pattern maps which show the use of the landscape through time.

"Sublette County is blessed with one of the densest areas of known house pit sites in the state of Wyoming," Current said. Many of these are dating to the Archaic periods, 3,000 to 7,000 years ago.

The house pit evidence found in Sublette County appears to differ from what is being found further south in the lower Green River Valley. "Our house pits seem to have more post holes," Current said. The post holes are evidence of support poles used for the shelters people made when they were out on on the Mesa, the area south of Pinedale. It is unknown how long these shelters were used, and if they were temporary or longer-term living structures. It is also not known exactly what they looked like, if they used straight tipi-like poles for a conical lodge or bent poles to create a rounded top, hut-like structure. Sublette County house pit sites typically averaged 5-20 post holes. Sweetwater and Lincoln county house pit sites typically have 4-5 post holes.

The Sublette County Historical Society has created a 3-D best-guess representation of what one of these houses might have looked like, based on the archaeological evidence. The display, along with many pictures, has been located in the downstairs of the Museum of the Mountain Man this past summer.

Current said they have also found some pottery, however it is typically very rare, and mostly just sherds rather than whole pieces. Some of the pottery is decorated with puncture marks or thumb nail indentations. "We are now finding a lot more pottery and some very unique pottery," Current said.

The Wind River Range was also a source for soap stone, which is a heavy, but relatively soft rock which could be carved into round bowls and flat grinding surfaces. But it was also heavy, so the farther away from the mountains, the fewer soapstone pieces are found. It is possible people buried them when they left the area, rather than carry the weight, and then dug them up for use again to use when they returned to the area the following year. The Museum of the Mountain Man has an impressive collection of soap stone bowls and artifacts.

What were people eating thousands of years ago? Current said evidence shows that 5,000-7000 years old people were eating mostly small animals like rabbits and sage chickens, rather than big game animals. Current said more recent sites have evidence of bigger game as food sources. He said it is probable that the food source was reflective of the environment for what animals were available to kill and eat. When the climate was very hot and dry there was likely fewer animals available to hunt because forage was scant. When the climate was wetter, there would have been more vegetation, making the landscape more favorable for larger animals to move into the habitat and be available as a food source for the people living in the area.




Related Links