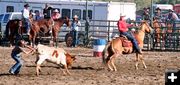 Ribbon roping

Phil Selby and Erica Wolaver fast time in the ribbon roping.




Team Doctoring

Boone Snidecor (header), Kent Snidecor (tailing the steer), and Steve James (heeler) pictured here in the team doctoring.

Ranch Rodeo benefit for Clayton Selby
To help with medical expenses for local cowboy
September 7, 2011
A ranch rodeo benefit was held on Sunday, September 4th, at the Pinedale rodeo grounds for local cowboy, Clayton Selby.

Selby, 25, is a former National High School Finals Rodeo champion from Pinedale. He suffered severe spinal injuries in a single-car accident recently and is paralyzed from the sternum down. He underwent five hours of surgery at the Medical Center of the Rockies in Loveland, Colorado, during which doctors inserted two 10-inch titanium rods on either side of his spine. They also fused the T-5 and T-6 vertebrae and the T-12 with the L-1. He moved to the Craig Hospital in Englewood, Colorado on June 27, 2011 to start rehabilitation.

Selby won the NHSFR saddle bronc riding title in 2004, after finishing as runner-up the year before. After a year of competing for Sheridan (Wyo.) College, Selby bought his PRCA card in 2006.

The atmosphere at the ranch rodeo was relaxing and fun. Smiling faces, and lots of laughter filled the arena as the friends and family of Clayton Selby enjoyed the beautiful day. The positive energy surrounding Clayton as he enjoyed the day, was overwhelming and heart touching.

Clayton attended the day and showed his appreciation to all by giving everyone a piggin' string he made.

Photos by Carie Whitman.