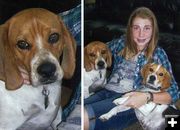 Lost Beagle

This beagle is one of two that got lost in the Spring Creek - Soda Lake area north of Pinedale over Labor Day weekend (early September). One of the dogs has been found and returned to her owners. The male is still missing. Update: The 2nd beagle has been found and reunited with his owners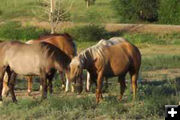 Lost horse

This palamino horse got loose in the Little Granite Creek trailhead area over Labor Day weekend on September 3rd.


Lost & Found horses and dogs
by Dawn Ballou, Pinedale Online!
September 26, 2011

We have a number of lost and found horses and dogs in our Pinedale Online classified ads right now. If anyone is missing an animal, we have two found dogs, one missing dog, one found horse, and two missing horses. We also have one free dog to give away to a good home.

Editor's update 9/27/11: The missing horse lost in the Scab Creek area has been found and returned to his owner!

Editor's update 9/26/11: The missing beagle has been found and is home again!

FOUND DOGS – Shepherds
We have two found dogs, one in Hoback Canyon and the other in Barger – both are shepherd or border collie-type dogs.
A dog was found in Hoback Canyon near Red Creek on Wednesday, September 14th. He is a black and white shepherd or a border collie. Young male. Has a gray collar, but no tags. To claim, please call Terry at 307-733-8637.

Update - Claimed! Another dog showed up at a resident's house in Barger on Sunday, September 25th. He is a black and brown shepherd, very friendly and loves children. They guess the age is maybe between 9-12 months old. To inquire, call Tami at 307-537-3245 or 307-231-0728. UPDATE WEDNESDAY, SEPT. 28: "The shepherd mix dog in Barger was picked up 9/27/11. Thank you pinedaleonline."

FOUND HORSE
This horse was found in the Wind River Mountain Range the week of August 22-26th. The family that found it brought it to their home in St. George, Utah. They would like to see it reunited with its rightful owners. If not, they are willing to keep it and give it a new home with their herd of horses and mules. They said it had a very broken pack saddle still attached when they found it. To inquire further, please call Cindy Gooch 435-313-6412.

MISSING DOG - Beagle - UPDATE: FOUND!
A family from Utah lost two beagles in the Spring Creek Trail area over Labor Day weekend (the beginning of September). The female beagle was found in the Soda Lake area, north of Pinedale, and has been returned to the family, but the male is still missing. He is a copper beagle. He had a collar with a rabies tag, but that might be gone now. He is chipped. If seen or found, please call Karl Price at 801-718-4045 or email ktaprice@msn.com. UPDATE: MONDAY, SEPT. 26, THE MISSING MALE BEAGLE HAS BEEN FOUND! "The male beagle showed up at the Box R Ranch last week. One of our wranglers called Animal Control, who then must have called Mr. Price -- because he called us and then showed up at the ranch to pick up his pet. It was a happy ending for all."

MISSING HORSES – Palomino and a Sorel
We have two missing horses, one lost in the Little Granite Creek area in Hoback Canyon and the other in Scab Creek in the Wind River Range southeast of Pinedale:

Double T, a golden palomino gelding, got loose at the Little Granite Creek Trailhead in the Hoback on Saturday, September 3rd. He went into the part in the middle of the two trails that was burned last year by the Bull Creek fire. He has a red halter and a greenish blue lead rope on. He is a herd horse and is not used to being left alone. He is sure to find other horses. He belongs to a 9-year-old little boy who misses him very much. For more information call 307-258-7323 Vikki Brown or 307-258-1183 Jason Brown.

Update: Found! The second horse was lost in the Wind River-Scab Creek area around Thursday, Sept. 22nd. He is a sorel horse with a rocking 69 brand on the front right shoulder. He has no top lip. He got away from a hunter. He may still have a full riding saddle with gun on the pack and a coat. If seen or found, please call 307-733-6740 or 307-413-0883, Sleeping Indian Outfitters in Bondurant. Update 9/27/11: "Thank you for posting the ad about our lost horse Smiley. (the horse with no top lip) He was found yesterday by Travis from the BLM and we are VERY thankful! He is waiting for us in the corrals at the Scab Creek Trailhead and we are going to get him today ASAP! Thanks again!" ~Sleeping Indian Outfitters

DOG TO GIVE AWAY - Boxer
A family in Pinedale has a 2-year-old male boxer that they need to find a new home for because their landlord won't let them have pets. He is loving and really playful - likes to be outside. Good with other animals and kids. House trained. Please call or text for more info and pictures, 208-816-8222.
__________________________

If you have lost or found an animal or an item, we encourage you to report it to the Sublette County Sheriff's Office at 307-367-4378. For animals, also contact Pinedale Animal Control officer, Julie Early, at the Town of Pinedale, 307-367-3892.

As a community service, Pinedale Online offers free posting in our online classified ads for Lost & Found items. The item must be lost or found in Sublette County or LaBarge. We post these ads for about a week, and the ad can be renewed if more time is needed to try and find the missing pet or owner. The ad can have a photo with it. E-mail support@pinedaleonline.com or call/text 307-360-7689. Click here to go to our online Classified ad page for more lost & found items.

Thank you to all our readers who have kept a look-out for missing animals and items and through their calls have helped turn a sad day into a very happy one for the owners. Thanks also to the kind-hearted people who have generously adopted a pet who needs a new good home.