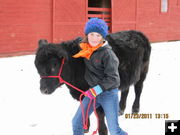 Ivy Porter

Ivy Porter donates 5% of her proceeds every year to Primary Children's hospital. Photo courtesy Sublette 4-H.


Local 4-H youth donate sale proceeds to charities
by Sublette 4-H
September 8, 2011

Citizenship and giving. Those two words are cornerstones in the 4H program and exactly what volunteers strive to teach youth in their clubs. For Sublette County youth the gift of giving was exemplified last year in an impressive rally of the members to help their fellow 4-Her in need. When 8-year-old Ashley Davis was tragically injured in the junior horse show at the start of the 2010 fair, one 4-H club and family made it their mission to find a way to help. Knowing the family would be faced with large medical expenses, the Sims family set out to help by asking each 4-H youth selling a market livestock project to donate 3% of their proceeds to Ashley's medical fund. In total, their efforts earned Ashley over $7500 from the individual member contributions and set the stage for another round of generosity that occurred at the sale netting Ashley's fund another substantial amount of money.

As a result of this precedence, many member's eyes were opened to the power of giving and the act continued again this year. In a motion set forth by the youth members of the Junior Livestock Sale Association, the governing body of the junior livestock sale, all members were given an option to have a portion of their proceeds donated directly to charity. Members were given a choice to donate 1, 2 or 3% of their proceeds to a charity of their choice. Over thirty youth generously agreed to give up a total of over $1500 to a variety of charities including; American Cancer Society, Animal Adoption Center, ASPCA, Big Piney Recreation, Happy Endings Animal Rescue, Humanitarian Aid, St Jude's Children's Hospital, Kickin' Cancer, Our Lady of the Peace Catholic Church, Penny's by the Inch (Primary Children's Hospital), the Pinedale Food Basket, Primary Children's Hospital, Red Cross, St Anne's Church, the Sublette Center and Wild Riders. In addition, several youth give on their own each year a generous 5% of their proceeds to Kickin' Cancer and Primary Children's Hospital, bringing the total charity donations to well over $2000. Charities will receive their funds in mid-October along with a list of members that supported their cause. For more information, contact the Sublette County Extension Office at 307-367-4380.