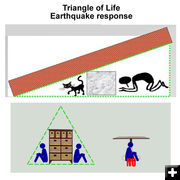 Triangle of Life

The Triangle of Life concept suggests to take refuge in triangle-shape voids next to large objects during an earthquake, rather than under a table.


'Drop, Cover, and Hold On' or 'Triangle of Life'?
Earthquake response
by Dawn Ballou, Pinedale Online!
September 29, 2011

The Wyoming State Geological Survey held a mock earthquake drill at 11:00 AM on Thursday, September 29th. The exercise was to have citizens participate in a 5-minute drill to encourage the public to prepare for an earthquake and to think about seismic risk. In the event of a real earthquake, WSGS urges citizens to "Drop, Cover, and Hold On" until the shaking passes.

In Pinedale, the exercise got interrupted by a real power outage that lasted about 45 minutes due to a transformer outage out on Ehman Lane, west of Pinedale. That outage impacted customers in Pinedale, Daniel and Boulder.

For conscientious citizens trying to do what they can to be as prepared as possible for emergency situations, we want to make you aware that there are opposing recommendations out there for what citizens should do in the event of an earthquake.

The official United States emergency response PR pushes the "Drop, Cover and Hold On" method, as promoted in today's earthquake exercise. There is another theory which touts something called the "Triangle of Life" idea for an earthquake survival tip.

This concept holds that in earthquake situations there is debris falling from above, furniture toppling over, and possible "pancaking" of buildings. When that occurs, triangle-space voids tend to be created next to large objects where debris is deflected, and those are safer places to take refuge when everything is crashing down around you. This idea says that taking refuge under a table will likely result in the person getting squished along with everything else as the building compacts around them. By getting next to an object that will deflect the debris, making yourself into a ball so you're as small as possible, you have a better chance of survival.

The American Red Cross, and other US agencies apparently disagree with the "Triangle of Life" concept, arguing that building codes in the United States are much better than in third world countries, therefore the danger of being killed due to building pancaking is much less in the United States. See the links below for counter arguments in defense of "Drop, Cover, and Hold On."

We believe each person should educate themselves as much as possible to be prepared for emergency situations they might encounter, and decide for themselves what is the best thing to do for their own survival. When these things occur, everyone is pretty much on their own and often must make a split second decision that could mean the difference between surviving or perishing. These drills are great to help citizens, businesses and organizations assess their emergency preparedness and take steps to do as much as possible to prepare in advance to not end up being a helpless victim when emergency situations occur.

Below are links to sources of information discussing both earthquake survival recommendations. A search engine search on "Drop, Cover and Hold On" and "Triangle of Life" will get you to many more resources discussing the pros and cons of each idea of what to do.

Click here for info on 'Drop, Cover, and Hold On': http://www.wsgs.uwyo.edu/WYEQDrill/

Click on this link for the 'Triangle of Life' idea: http://www.amerrescue.org/ Discussion disagreeing with 'Triangle of Life' method: http://en.wikipedia.org/wiki/Triangle_of_Life.

Click on this link for the Federal Emergency Management Agency (FEMA) page on earthquakes http://www.fema.gov/hazard/earthquake/.

Click here for Red Cross earthquake recommendations: http://www.redcross.org/portal/site/en/menuitem.53fabf6cc033f17a2b1ecfbf43181aa0/?vgnextoid=6f461c99b5ccb110VgnVCM10000089f0870aRCRD&currPage=13cbb969ae282210VgnVCM10000089f0870aRCRD

Click here for more information about worldwide earthquakes on the U.S. Geological Survey National Earthquake Information Center, including the most recent worldwide earthquakes: http://earthquake.usgs.gov/regional/neic/.