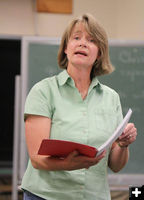 Laurie Loftus

Laurie Loftus as Anna Leonowens. Photo by Sam Harnack.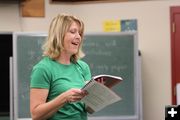 Kim Buchanan

Kim Buchanan was cast in the role of Lady Thiang. Photo by Sam Harnack.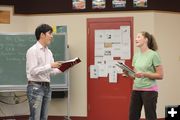 Cast members

(L to R) Evan Huang and Ellie Loftus. Photo Sam Harnack.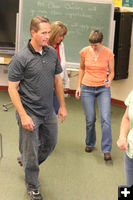 Learning to Dance

(L to R) Shaun Buchanan, Marianne Mrak and Katie Mortensen. Photo by Sam Harknack.


Cast selected for 'The King and I'
by Pinedale Community Theatre
September 21, 2011

Following four days of auditions, August 6 and September 8, 9 and 10, a cast of 50 was selected from a very talented field of singers, actors and dancers for the Pinedale Community Theatre's November production of The King and I. Over 70 individuals tried out for the production, leaving the director and the Pinedale Community Theatre Board wishing there were more roles to be filled.

Adult roles cast are Lorie Loftus - Anna Leonowens, Kim Buchanan - Lady Thiang, Ellie Loftus - Tuptim, Evan Huang - LunTha, Mark Kalal – The Kralahome, Matt Daniel - The Interpreter, Derrick Walden - Captain Orton, Scott Jenkins - Sir Edward Ramsay. The following women cast as Royal Wives – Marianne Mrak, Valerie Vidal, Laura Lopeman, Katie Douglas, Brielle Buchanan, Sam Harnack, Barbara Baker, and Rachel Allen. Supporting roles went to Gannett Loftus, Jace Buchanan, and Paul Hagenstein. Royal Dancers cast are Danielle Kaumo, Megan Bruce, Larisa Cox, Keri Cross, Julie Konicek, Laura Vasquez, Amber Stephens, Hattie McKay, Baylee Buchanan and Shawn Buchanan.

Twenty children's roles as the Royal Princes and Princesses were also cast. Lead roles went to Jaxon Buchanan as Louis Leonowens and Wesley Hathaway as Prince Chululongkorn, heir to the kingdom of Siam. Other royal children cast are twins in real life and also in the show are Jorell and Karlon Ballard. Other children cast include Janae Arne, Jane Cloniger, Rachael Essington, Madison Friend, Grace Harnack, Kirstin Klaren, McKenna Legerski, Hannah LaBuda, Haley Boulter, Trevor and Tyler Moritsch, Olivia Pape, Nicolas and Sofia Smith-Cuprill and Claire Stough.

Director/Choreographer Diane Springford and Thai Dance Choreographer John Goss marveled at how many talented people live in the Pinedale Area. Mr. Goss, who directed the Pinedale "Community Theatre production of The Sound of Musics aid "The amount of talent in this community continues to amaze me. It is such a pleasure to be back working here again."

According to Director Diane Springford, "The turnout for the auditions was especially strong and it was very difficult to narrow the field. Pinedale is very fortunate to have so many people who are interested in theater and can sing and dance and act." Ms. Springford, who is the artist director of the Wyoming Shakespeare Festival Company and who directed Pinedale Community Theatre's production of Blithe Spirit will be staying in the community from September 14, when rehearsals begin through the final show November 19.