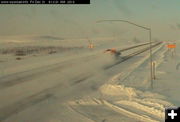 US 191 near Cora

Snowplows were out in force trying to get the roads open after the big storm. This is US 191 at Trappers Point between Pinedale and Daniel, at the Cora junction.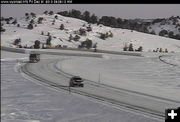 South Pass

South Pass had No Unnecessary Travel warnings posted Thursday night. The roads were described as "treacherous" on Friday morning, but were open over the pass to get between Farson and Lander.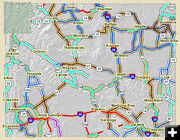 Road Closures

Roads were closed in many places across southern Wyoming Thursday night, Dec. 30, as the state coped with a major winter storm.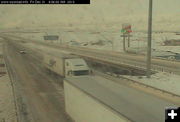 Rock Springs

I-80 was closed eastbound at Rock Springs for several hours Thursday night.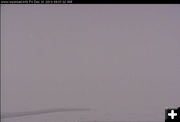 Elk Mountain

I-80 Walcott Junction at Elk Mountain on Thursday night, Dec. 30th.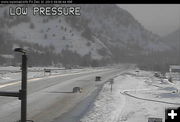 Snake River Canyon

View of the west entrance to the Snake River Canyon early Friday morning. WYDOT webcam.


Storm brings more snow to Wyoming, I-80 closures
9 inches of new snow at White Pine Ski Area
by Pinedale Online!
December 31, 2010

A powerful winter storm affected much of western and central Wyoming over the past couple days. The storm hit the west Tuesday night through Wednesday and then jumped east of the Continental Divide Wednesday night through early Friday.

Winter storm weather caused the Wyoming Department of Transportation to close Interstate 80 at various locations across Wyoming throughout the evening Thursday, to ultimately closing down most of it late in the night.

The closure stranded motorists in towns along the way. In Wamsutter, all the hotels filled and stranded motorists were sent over to the school for emergency accommodations overnight.

Road crews were able to get the interstate mostly open by 8:30 AM Friday morning, although traffic was very congested in places as things got moving again.

Roads in Sublette County all remained open, although No Unnecessary Travel warnings were issued on US 191 between Sand Draw through Farson and south to Rock Springs during the night hours. Road crews were able to get the roads cleared for morning and daytime traffic, with warnings of the usual winter driving conditions (slick, blowing and drifting snow in places).

Snowmobilers will be thrilled to know the mountains picked up around 8-11 inches of fresh powder in the Wyoming Range and the Upper Green got 5-8" of new snow. Skiers: White Pine Ski Area got 9" of new snow.

Bondurant reported 4" of new snow. Pinedale, Cora and Daniel got 2-3 inches. Big Piney got 1.5 inches. Rock Springs got 5 inches. Jackson reported 10 inches.

The following are snowfall amounts reported to the National Weather Service through early Friday, December 31st, capping off the winter of 2010.

SUBLETTE COUNTY
BIG SANDY OPENING SNOTEL... 11 INCHES
WHITE PINE SKI AREA... 9 INCHES
TRIPLE PEAK SNOTEL... 7 INCHES.
SNIDER BASIN SNOTEL... 7 INCHES
LOOMIS PARK SNOTEL... 6 INCHES
GUNSITE PASS SNOTEL... 5 INCHES
17 N CORA... 5 INCHES
KENDALL RANGER STATION SNOTEL... 5 INCHES
EAST RIM DIVIDE SNOTEL... 5 INCHES
ELKHART PARK G.S. SNOTEL... 5 INCHES
POCKET CREEK SNOTEL... 5 INCHES
NEW FORK LAKE SNOTEL... 4 INCHES
BONDURANT... 4 INCHES
PINEDALE... 3 INCHES
CORA... 2 INCHES
DANIEL... 2 INCHES
PINEDALE... 2 INCHES
BIG PINEY... 1.5 INCHES
14 NW PINEDALE... 1.3 INCHES

LINCOLN COUNTY
INDIAN CREEK SNOTEL... 15 INCHES
KELLEY RANGER STATION SNOTEL... 15 INCHES
BLIND BULL SUMMIT SNOTEL... 10 INCHES
WILLOW CREEK SNOTEL... 10 INCHES
BLIND BULL SUMMIT... 10 INCHES
SALT RIVER SUMMIT SNOTEL... 8 INCHES
SPRING CREEK DIVIDE SNOTEL... 8 INCHES
COKEVILLE... 8 INCHES
BOX Y RANCH... 8 INCHES
5 SSE SMOOT... 7 INCHES
BEDFORD... 6 INCHES
COTTONWOOD CREEK SNOTEL... 6 INCHES
1 NW ALPINE... 5.5 INCHES
HAMS FORK SNOTEL... 4 INCHES
THAYNE... 4 INCHES
FREEDOM... 3 INCHES
COKEVILLE... 3 INCHES
AFTON... 2 INCHES
KEMMERER... 2 INCHES

SWEETWATER COUNTY
ROCK SPRINGS... 5-6 INCHES
GREEN RIVER... 5 INCHES
ROCK SPRINGS... 2 INCHES
1 W ROCK SPRINGS... 1.3 INCHES
1 WNW ROCK SPRINGS... 1 INCH

TETON COUNTY
GRAND TARGHEE SKI AREA... 15 INCHES
JACKSON LAKE... 15 INCHES
GRASSY LAKE SNOTEL... 15 INCHES
PHILLIPS BENCH SNOTEL... 14 INCHES
2 SW TETON VILLAGE... 13 INCHES
WILSON... 12 INCHES
11 S JACKSON... 12 INCHES
JACKSON HOLE-RAYMER... 12 INCHES
GRAND TARGHEE SNOTEL... 11 INCHES
JACKSON HOLE-MID... 11 INCHES
JACKSON... 10 INCHES
JACKSON HOLE-BASE... 9 INCHES
GRANITE CREEK SNOTEL... 8 INCHES
12 NE JACKSON... 7 INCHES
SNAKE RIVER STN SNOTEL... 7 INCHES
GRAND TARGHEE-CHIEF JOSEPH... 6 INCHES
MOOSE... 6 INCHES
BASE CAMP SNOTEL... 6 INCHES
MOOSE... 6 INCHES
JACKSON... 4.5 INCHES
SNOW KING SKI AREA... 4 INCHES
TOGWOTEE PASS SNOTEL... 3 INCHES
GROS VENTRE SUMMIT SNOTEL... 3 INCHES
DARWIN RANCH... 3 INCHES
TOGWOTEE MOUNTAIN LODGE... 1 INCH

YELLOWSTONE NATIONAL PARK
LEWIS LAKE DIVIDE SNOTEL... 18 INCHES
OLD FAITHFUL RANGER STATION... 12 INCHES
WEST ENTRANCE RANGER STATION... 10 INCHES
THUMB DIVIDE SNOTEL... 9 INCHES
CANYON RANGER STATION... 8 INCHES
SNAKE RIVER RANGER STATION... 7 INCHES
GRANT VILLAGE RANGER STATION... 6 INCHES
SYLVAN LAKE SNOTEL... 6 INCHES
TWO OCEAN PLATEAU SNOTEL... 6 INCHES
MADISON RANGER STATION... 6 INCHES
CANYON SNOTEL... 5 INCHES
PARKER PEAK SNOTEL... 5 INCHES
LAKE RANGER STATION... 4.5 INCHES
SYLVAN ROAD SNOTEL... 4 INCHES
TOWER FALLS RANGER STATION... 2.2 INCHES
EAST ENTRANCE RANGER STATION... 2 INCHES
LAMAR RANGER STATION... 2 INCHES
MAMMOTH RANGER STATION... 1 INCH

FREMONT COUNTY
DEER PARK SNOTEL... 13 INCHES
SOUTH PASS SNOTEL... 12 INCHES
5 WSW LANDER... 10 INCHES
LANDER AIRPORT... 8.7 INCHES
4 SSW LANDER... 8.3 INCHES
6 SW LANDER... 8.3 INCHES
6 ENE LANDER... 8.3 INCHES
RIVERTON... 7 INCHES
2 W RIVERTON... 7 INCHES
31 WSW THERMOPOLIS... 6.8 INCHES
2 SW RIVERTON... 6 INCHES




Related Links