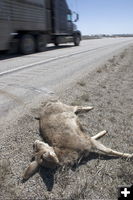 Road-kill deer

A doe mule deer lay dead after being hit by a vehicle along Highway 191 north of Daniel. Photo by Mark Gocke, WGFD.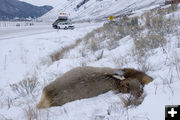 Road-kill elk

A cow elk lays dead after being hit by a car along Highway 89 north of Jackson. Photo by Mark Gocke, WGFD.


Motorists urged to slow down for wildlife
by Wyoming Game & Fish
December 12, 2010

PINEDALE Ė Itís that time of year when highway travelers need to slow down and pay special attention for animals along our roadways. Wyoming is blessed with an abundance of big game, and the winter weather causes them to migrate to lower elevations where they are forced to negotiate highways and the associated traffic. Wildlife have limited options during winter, and we need to assume the responsibility of looking out for them while behind the wheel, for both the animalsí safety and our own.

Of course, wildlife can appear just about anytime and anywhere, but there are some key areas throughout the region where several animals seem to get struck every year. "We continually have a great number of deer hit along Highway 191 between the Hoback Rim and the town of Pinedale this time of year," said Wyoming Game and Fish Wildlife Management Coordinator Scott Smith. Motorists are urged to use special caution just west of Pinedale around the Cora junction. "This is a major migration route for mule deer and pronghorn, and motorists just need to slow down and expect to see wildlife here," said Smith. Other areas Smith mentioned include along Highway 189 both north and south of Daniel and also along Highway 191 south of Pinedale.

"Itís hard to say just how many big game animals get hit here each year because we know a lot of animals that get hit still make it away from the roadside only to die later, out of sight," said Smith. "Itís safe to say we lose hundreds of deer and other big game animals each year due to vehicle collisions. Highway loss is often comparable to the numbers taken through hunting each fall."

In the Jackson area, Highway 89/191 south of Jackson to the entrances of both the Hoback and Snake River Canyons is typically a problem stretch as well as north into Grand Teton National Park. Highway 22 from Jackson to Wilson and 390 north to Teton Village are other areas around Jackson that warrant caution. "As motorists we really need to allow ourselves extra time, especially this time of year," says Smith.

"Slowing down, even just five miles per hour, can greatly increase oneís reaction time to avoid an accident."




Related Links