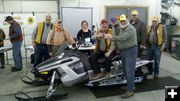 Winner Ric Stott

In front are winner Ric Stott and Tiger Jaskolski. Behind are the Lions: Charles Stough, Phil Carr, Nancy Reed, George Staidl, Leo Jaskolski and Jim Washam. Photo courtesy Mindi Crabb.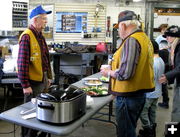 Refreshments

Bruce Reed and Jim Washam enjoy the refreshments. Photo courtesy Mindi Crabb.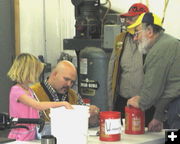 Little Helper

Lions Charles Stough, Ric Stott and Tiger Jaskolski get some help. Photo courtesy Mindi Crabb.


Lions Club Snowmobile Raffle
by Pinedale Lions Club
December 9, 2010

The Pinedale Lions Club held its 21st Annual Snowmobile Raffle Drawing on Saturday, December 4 at Buckyís Outdoors in Pinedale. All 400 tickets were sold and the lucky winner of the 2011 Polaris 800 Pro RMK 155" was Ric Stott and sister Jennine Saulino. Approximately 100 other prizes were awarded during the reverse drawing, featuring items donated by many generous Sublette County businesses. Winners are being called and a list will be published; prizes can be picked up at Big J Auto Parts in Pinedale.

The Pinedale Lions Club supports many local projects including Sublette County Special Olympics, the Easter Egg Hunt, high school scholarships, the Home & Garden Show, vision screening and eyeglass purchases and the recently formed Pinedale Leo Club among others. They also help fund the Allen H. Stewart Camp for the visually impaired in Casper, the Rocky Mountain Lions Eye Bank and contribute to Lions Clubs Internationalís disaster relief efforts. According to President Mindi Crabb, "the Pinedale Lions Clubís mission is "to empower volunteers to serve their communities, meet humanitarian needs, encourage peace and promote international understanding", and we greatly appreciate the incredible support of our local businesses, friends and neighbors who help us not only with the snowmobile raffle but throughout the year."