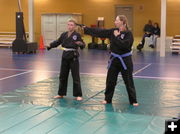 Gun!

In this test, David Rule is approached by a female gunslinger. He goes along submissive at first, but at his first opportunity, he takes the gun away from her. Photo by Bob Rule.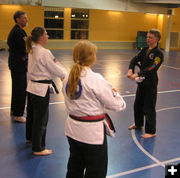 Junior Black Belt David Rule

13-year old David Rule receives his black belt. Also pictured are black belts Brent Dean, Karen Rogers, and Amber Travsky.


Karate students earn belt ranks
13-year old David Rule receives Junior Black Belt
by Wind River Kempo Karate Club media release
December 7, 2010

The Wind River Kempo Karate Club recently held belt tests at the Pinedale Aquatic Center (PAC) for a variety of colored belt ranks, including one 13-year old testing for his black belt.

On Thursday, December 2nd, 13 kids tested for their next ranks, and four adults tested their skills to pass requirements for promotion.

On Friday, December 3rd, David Rule tested for the rank of Junior Black Belt.

All passed with flying colors and made their instructor, Sensei Karen Rogers, quite proud. "Itís not every day anyone tests for their black belt, let alone a young teenager. Everyone did an outstanding job. I am thrilled with the skill and effort I saw in the belt tests," she says. Karenís instructor, Shihan Amber Travsky of Laramie, traveled up for the event, marking the significance of Davidís achievements. Sensei Karen currently holds 3rd Degree Black Belt, while Shihan Amber is a 7th Degree Black Belt.

Those promoted to Yellow belt are Amy and Jacob Scharff, Jacob Lenz, Carson Stinson, Catie Thonson, and Grace Harnack. The one student promoted to High Yellow belt is Trevor Moritsch. Students promoted to their Blue belts include Tate Johnson, Olivia Pape, Bailey Schupp, and Keegan Gehlhausen. Kathy Ziegenfelder was promoted to High Blue belt. Four impressive students were promoted to Green belt, Dari Quirk, McKenna Quirk, Colton Quirk, and Liz Hampton.

David Rule, who turns 14 later this month, has studied with Sensei Karen since he was 8. As he progressed, he got into helping teach the younger kids classes, where he is always very helpful and entertaining. David is known for his creativity and enthusiasm, and his belt test will be known for its attention to detail, effort and focus. All in attendance could not help but be impressed with the young manís skills, ability and determination. His fellow students would like to thank him for his past and future help. Congratulations to David and the others who earned their next rank!