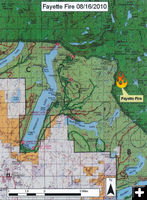 Fayette Fire map

The fire is burning in the Bridger Wilderness approximately two miles north of Fayette Lake.

Fayette Fire burning in Bridger Wilderness
Smoke from lightning-caused fire visible in Wind River Range
August 16, 2010
The Fayette fire was detected on Saturday, August 14th burning two miles north of Fayette Lake in the Bridger Wilderness of the Wind River Mountain range. It is located in T01S R107S Sec 30. There are no closures in effect at this time associated with this fire.

As of Monday, August 16th, the fire was less than an acres in size and located in very rocky terrain. A column of white smoke from the fire was visible from Pinedale, Big Piney and across the Green River Valley.

According to a release from the Pinedale Ranger District of the Bridger-Teton National Forest, fire managers anticipate this blaze will likely burn throughout the fall. The long-term management plan will be based on resource benefit and public safety.

For more information, contact the Pinedale Ranger District at 307-367-4326 or go online to www.TetonFires.com

Click here for a printable PDF of the Monday, August 16 update for the Fayette Fire.