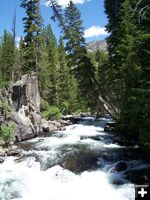 Fremont Gorge

Englemann spruces leaning over the Fremont Creek gorge.

Pine Creek Canyon hike
Photos by Scott Almdale
July 25, 2010
Scott Almdale took two recent hikes down the Pine Creek Canyon from Elkhart Park. This hike was 2000 feet and two miles down and 2000 feet and two miles back up. "I was struck with so much scenic beauty down there. There was so much to see in one tiny spot of the Wind Rivers....a lake, a river, a cascading gorge, a merging of two creeks, a healthy forest corridor along the creek and trail...all practically in one spot! Now I am beginning to understand why the Wind Rivers are famous......people from all corners of the world come to Pinedale to witness the incredible God's country at Wind Rivers!"