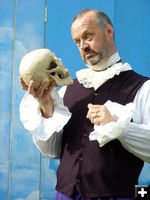 Tartuffe

On July 16, the award-winning Wyoming Shakespeare Festival Company will perform Jean Baptiste Poquelin de Moliere's irrepressible comedy Tartuffe. The production is a presentation of the Pinedale Fine Arts Council.


PFAC presents Theatre in the Park July 16
New date for 'Tartuffe'!
by Pinedale Fine Arts Council
July 12, 2010

The Pinedale Fine Arts Council is proud to present our annual "Theatre in the Park" on Friday, July 16 at 6:00 p.m. in the American Legion Park. This performance is free. (Editor's Note: This event was moved from July 23rd.)

Returning to Pinedale will be the award-winning Wyoming Shakespeare Festival Company who will perform Jean Baptiste Poquelin de Moliere's irrepressible comedy Tartuffe. PFAC would like to note that this event is usually called "Shakespeare in Park" but because of the production we'll call it Theatre in the Park for this year.

Considered hilariously scandalous, banned in its day, and yet still a favorite today among audiences, the comedy "Tartuffe" by Molière was written in the 17th century, fifty years after the death of William Shakespeare. First performed in 1664 in Paris, "Tartuffe" took a comical look at France's religious leaders and exposed the hypocrisy that existed in the church. French audiences loved the play; however it was soon banned. The play returned and was banned again in1667. Finally, five years after it was written, "Tartuffe" was allowed to remain on the stage to the absolute delight of French audiences.

"Tartuffe" tells the story of a supposed holy man named Tartuffe. Under the religious cloak of piety, Tartuffe befriends Orgon, a rich man who is so swept away by Tartuffe's charisma and his message of the uncomplicated holy life that he gives him everything, including his daughter's hand in marriage and the deed to his house. Seeing their inheritance snatched away, Orgon's family tries various schemes to expose Tartuffe's hypocrisy.

Tartuffe is high satiric theater, precisely constructed, like a Mozart opera, to make audiences delight in stepping into a world where everyone speaks in rhyming verse and shamelessly acts out the ridiculous.

The July 16 production of Tartuffe is presented as part of the Pinedale Fine Arts Council's "Summer Park Series" so bring a picnic and bring the kids! The show is free but donations are always welcome. This event is also supported by the Wyoming Arts Council, The National Endowment for the Arts, the Town of Pinedale and the Sublette County Recreation Board.

For more information and a summary of Tartuffe please visit www.pinedalefinearts.com and be sure to find us on facebook.