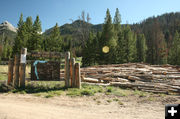 Free firewood

Firewood is available at the Green River Lakes recreation area for free with a valid free-use firewood permit, which can be obtained at the Pinedale District Office beginning on July 2. The Pinedale Ranger District Office is located next to Ridley's Grocery Store and is open Monday – Friday, 8:00 AM to 5:00 PM.

Green River Lakes campground open
All facilities open to the public
July 2, 2010
The Pinedale Ranger District of the Bridger-Teton National Forest reports that the Green River Lakes campground facility is totally open now. The roads, campground, boat launch, trailhead and parking areas are all open to the public. Free Firewood permits are available from the Pinedale Ranger District office during normal business hours. For more information call 307-367-4326.