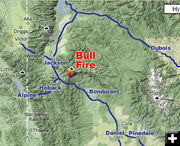 Bull Fire

The Bull Fire is located between Bondurant and Hoback Junction, in the Gros Ventre Wilderness.


Bull Fire Update - July 29, 2010
643-acre fire in the Gros Ventre Wilderness being allowed to burn for resource benefit
by Bridger-Teton National Forest
July 30, 2010

The Bull Fire was located and sized up at 3 acres on the afternoon of July 23 after an aerial fire detection flight. The lightning-ignited fire is located east of Hoback Junction inside the Gros Ventre Wilderness in the Bull Creek drainage. Because the fire is of benefit to the landscape and wildlife, resource managers are monitoring the fire to ensure we are meeting both protection considerations and resource objectives.

Status: The fire, currently at 643 acres, is burning in beetle kill and subalpine fir. Observers on the fire have documented the fire burning around stringers of white bark pine, but not active within some of those stands.

Objective: To provide for public and fire personnel safety and to minimize threats to private property, facilities or other developments. Allow fire to play its natural role in the ecosystem as a process of ecological change and manage the fire in a cost effective manner.

Recent Events: The fire behavior was moderate on 7/28 with 100 acres of new growth. Fire is primarily smoldering, creeping in the mornings and picking up slightly in the afternoons with some single tree and group torching. No structures or private properties are threatened at this time.

This Week's Strategy: Continue documenting the smoke dispersal, fire's activity and implementing the management action plan. A Type 3 team (Neckels) has been ordered and they will transition the morning of 7/30. The team will implement the management action plans for the south and east areas of the fire.

Today's Strategy: Crews on the fire will continue to spike out on the fire for patrols, monitoring the fire edge and supply information and data to forest resource advisors. Neckels's Type 3 team members will shadow current staff on the fire for a smooth transition tomorrow.

Forecast: Partly cloudy, with a high near 80. A 20 percent chance of showers and thunderstorms. Some of the storms could produce gusty winds and heavy rain. Light wind becoming south between 10 and 13 mph.

Closures: A closure order has been implemented and includes the Rough Hollow, Bull Creek, Cow Creek, Bear Creek drainages, north of the Hwy 181 to Cream Puff Peak. The Hoback shield is open to climbing.

Resource Benefits: "Wild fires are a natural ecological event which has occurred across the landscape for hundreds of years. They maintain a patchwork or mosaic of diverse vegetation age classes, structure and community types. Such diversity translates into long-term habitat stability, integrity and health including enhanced resistance to large-scale impacts from insects and diseases."
Steve Kilpatrick, Wildlife Habitat Biologist, WYGF

Please visit www.Tetonfires.com and www.inciweb.org for more information.

The Bridger-Teton National Forest and Grand Teton National Park are in HIGH fire danger. Please be careful with fire.