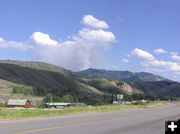 Bull Fire

View of smoke from the Bull Fire from US 191/189 on Friday, July 30th. The fire is in the Gros Ventre Wilderness between Bondurant and Jackson.


Bull Fire Closure Order expanded
by Bridger-Teton National Forest
July 30, 2010

The Bridger-Teton National Forest has expanded the Temporary Emergency Fire Closure for the Bull Fire. The closure order, which was put in place on July 24, includes the Rough Hollow, Bull Creek, Cow Creek, Bear Creek drainages, north of the Hwy 187 /191 to Cream Puff Peak. Due to the fact that the fire has progressed to the south and east toward a predetermined management action point, fire managers are extending the closure area to include Little Granite Creek to the East and Pinnacle Peak to the North. The trailheads and spur roads at the end of Little Granite road will close effective 12:01 a.m. Saturday, July 31. The Little Granite road will close 12:01 a.m. Monday, August 2. The Hoback shield and Granite Creek Road are still open at this time. The purpose of the closure is to provide for public and firefighter safety during the incident.

The fire, now at 860 acres, is burning in timber. The fire has moved across the Bull Creek drainage and towards the Rough Hollow ridge line. The heavy dead and downed fuels on the fire are very dry and are the primary force driving the fire behavior.

The Bull Fire was located and sized up at 3 acres on the afternoon of July 23 after an aerial fire detection flight. The lightning-ignited fire is located east of Hoback Junction inside the Gros Ventre Wilderness in the Bull Creek drainage. Because the fire is of benefit to the landscape and wildlife, resource managers are monitoring the fire and will continue to manage the fire according to land use plans.

Neckels Type 3 Incident Management team has transitioned with the Jackson Ranger District and is overseeing the fire.

Primary objectives are to provide for public and fire personnel safety and to minimize threats to private property, facilities or other developments. Allow fire to play its natural role in the ecosystem as a process of ecological change and manage the fire in a cost effective manner. Crews continue monitoring the fires activity to ensure we are meeting both protection considerations and resource objectives.

For more information on this and other area fires, please visit www.tetonfires.com or www.inciweb.org.