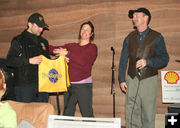 Passing the Yellow Bib

Musher Stacey Teasley (center), from Jackson, hands off the yellow bib to Blayne "Bud" Streeper, from Fort Nelson, British Columbia (left), to wear on Monday in the Pinedale Stage of the International Pedigree Stage Stop Sled Dog Race. The yellow bib is worn by the musher with the fastest time from the day before. IPSSSDR Race Director and founder, Frank Teasley, is on the right.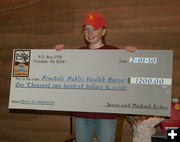 Pedigree donation

Pinedale Junior Musher Laura Noble holds a $1200 donation check from Pedigree to Pinedale Public Health.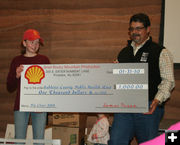 Shell Donation

Pinedale Junior Musher Laura Noble (L), and James Duran from Shell, hold a donation check from Shell Rocky Mountain Production for $1000 to the Sublette County Public Health Department to help with flu vaccinations in 2010.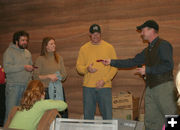 IPSSSDR Belt Buckles

Race Director Frank Teasley (far right) gives special IPSSSDR belt buckles to (L to R) Richie Strom, Serese Kudar and Michael Kudar in recognition of their contributions to the Pinedale Stage Stop over the years.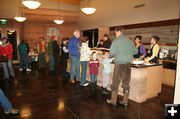 Food Line

The dinner was catered by Cafe on Pine. Food included great meatloaf, mashed potatoes and gravy, salad, drinks and dessert.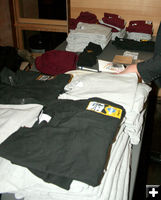 T-Shirts

T-shirts, hats, CDs, stickers and other items were available to purchase at the IPSSSDR table.


Welcome Mushers Banquet in Pinedale
International Pedigree Stage Stop Sled Dog Race (IPSSSDR)
by Dawn Ballou, Pinedale Online!
January 31, 2010

Pinedale was host to the "Welcome Mushers Banquet" on Sunday evening, January 31st. The event was Pinedale's turn to welcome the mushers, support teams and race officials of the International Pedigree Stage Stop Sled Dog Race. On Monday, teams will take off from the Upper Green on a 43-mile loop course for the Pinedale Stage Stop leg of the race.

The Pinedale stage is the third day of the annual sled dog race, which started on January 29th in Jackson, Wyoming and will end on February 6th in Park City, Utah. With its unique dog-friendly "stage stop" racing format, the IPSSSDR stops in a different community each night, allowing the host towns to show their hospitality. Festivities for mushers and spectators alike include pancake feeds, dog parades, banquets, carnivals, and snowshoe softball. Other stage stops are Lander, Big Piney/Marbleton, Alpine, Kemmerer/Diamondville, and Evanston/Bridger Valley.

Seventeen teams are competing in this year's race, with competitors coming from Wyoming, Minnesota, Alaska, Michigan, Colorado, Utah, Ohio, Montana, Canada, and Scotland. Three teams from Wyoming are competing: Barrie Raper from Pinedale, Stacey Teasley from Jackson, and Jerry Bath from Lander.

Organizers for the Pinedale Stage Stop were Serese and Michael Kudar. Shell Exploration & Production Company was the main sponsor for the Pinedale Stage Stop. Pinedale Wolf Dodge sponsored the race fleet of support vehicles for the event. The Town of Pinedale also helped with a large donation to the Pinedale Stage.

The Pinedale Welcome Mushers banquet was catered by Café on Pine in Pinedale. Live music was provided by Jackson band "Global Review." Race organizers also gave special recognition to over 100 FFA (Future Farmers of America) youth who are helping out with the event.

PEDIGREE joined the IPSSSDR eleven years ago as the main sponsor for the race. They donate one year's worth of food for a dog for each year of race sponsorship by each town to go to their animal shelters. They also made a donation to the Sublette County SAFV (Sexual Abuse and Family Violence) task force. Shell Rocky Mountain Production generously gave an additional donation of $1000 to the Sublette County Public Health Department to help with free flu clinics in 2010.

Race Director, Frank Teasley, said "I am from Sublette County." His home is located in Hoback Canyon at Granite Creek, just south of the border between Teton and Sublette counties. "The thing I am most proud of is living 23 feet south of Teton County!"

Teasley said the IPSSSDR race is about childhood immunization and community partnerships. "When I began this race 15 years ago I had no idea how many good people I'd meet. Thank you for supporting it!" The International Pedigree Stage Stop Sled Dog Race, the largest dog sled race in the lower 48 states, was founded in 1996 by Frank Teasley to make sled dog racing more accessible to the public. This is the 15th year anniversary of the race.

Junior Mushers from Pinedale are:
Claire Stough, 9 years old
Talon Faler, 13 years old
Alexis Metz, 11 years old
Laura Noble, 12 years old

For a complete schedule, visit the race Website at www.wyomingstagestop.org, contact the race via e-mail at wystagestop@blissnet.com, or call (307) 734-1163.

Pinedale Stage Stop Sponsors

Main Sponsor:
Shell Exploration & Production Company
www.shell.com

Race Fleet:
Pinedale Wolf Dodge, www.wolfpinedale.com

Town Sponsor: Town of Pinedale
www.townofpinedale.com

Lead Dog Banners
Harber Construction
Teletractors Inc.
1st Bank, www.1stbank-online.com
Sublette Examiner
Pinedale Roundup
Hampton Inn & Suites, www.hamptoninn.com
Questar Exporation, www.questar.com
Wells Fargo Bank, www.wellsfargobank.com
EnCana, www.EnCana.com

Wheel Dog Banners
Baymont Inn & Suites, www.baymontinns.com
Ultra Resources, www.ultrapetroleum.com
WLC Engineering
Rocky Mountain Power
Pinedale Online, www.pinedaleonline.com
W Designs - Torie Whitley
Office Outlet, www.offout.com
Café on Pine Restaurant
Sublette Country Library Foundation
Sublette County School District #1, www.pinedaleschools.org
Contour Properties, www.contourproperties.com
Belveal's Signs
Stichin' Post
Wind River Brewery
Northwinds Inc.
Proactive Rehabilitation, www.proactiverehabilitation.com