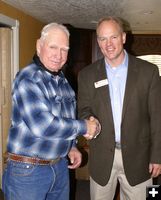 Handshake

Big Piney rancher Dan Budd shakes the hand of GOP candidate Matt Mead.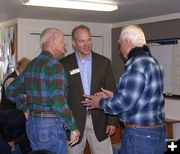 Dan & Matt

Dan Budd introduces Matt Mead to the lunch crowd at the Marbleton senior center.


Mead visits Marbleton
by Cat Urbigkit, Pinedale Online!
January 26, 2010

Republican candidate for Wyoming Governor Matt Mead, an
attorney and rancher from Cheyenne, kicked off his first
official week of campaigning by spending a day in Marbleton.

During a question-and-answer session at the Marbleton Town
Hall, the topics varied from education to sage grouse, but
Mead also gave a list of "core fundamental" issues for focus.

According to Mead, Wyoming must work on:
• Jobs and the Economy,
• We must responsibly use and develop our natural
resources, our energy, our agriculture, and our water.
• Continue to improve the quality of life for Wyoming families and communities, this among other things includes strong law enforcement and good health care for our citizens
• We must improve our technology and connectivity to improve telecommuting and telemedicine
• We must protect gun rights and private property rights and
• We must provide the best education, K-12, our community
colleges and the University of Wyoming.

"These issues are fundamental to Wyoming's future."