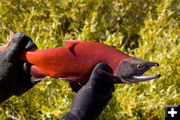 kokanee salmon

A male kokanee salmon showing the brilliant red spawning colors, hooked jaw and humped back. Photo by Mark Gocke, WGFD.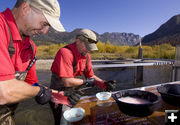 New Fork Lake egg collecting

Spawning Specialist, Pete Feck (L) and Spawning Coordinator, Brian King (R) collect eggs from two female kokanee salmon at New Fork Lakes near Pinedale this past September. Photo by Mark Gocke, WGFD.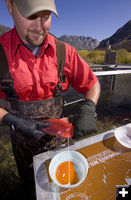 Adding Milt

Wyoming Game and Fish Spawning Coordinator, Brian King, adds milt from a male kokanee salmon to fertilize the eggs collected during a spawning operation at New Forks Lakes north of Pinedale. Photo by Mark Gocke, WGFD.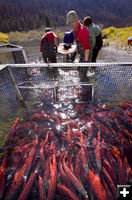 Holding Pen

Male kokanee salmon swim in a holding pen at the inlet of New Fork Lakes as Wyoming Game and Fish Spawning Specialist, Pete Feck, retrieves a fish for spawning. Photo by Mark Gocke, WGFD.


WGFD gathers salmon eggs near Pinedale
by Wyoming Game & Fish
November 21, 2009

For most anglers, fishing for salmon conjures up images of Alaska or other parts of the Pacific Northwest but thanks to the efforts of fish managers with the Wyoming Game and Fish Department, the Cowboy State can be added to the list of states offering salmon fishing.

Kokanee salmon is the name given to the land-locked version of sockeye salmon and these prized game fish can be found in a handful of Wyoming's deep cold water lakes.

Flaming Gorge Reservoir is probably the state's most popular kokanee fishery but they are also found in other lakes including New Fork, Fremont, Boulder, Middle Piney, Fontenelle, High Savory and Lake Hattie near Laramie.

While there is some natural reproduction that takes place in these waters it is not nearly enough to sustain populations, so each year eggs are collected so that young fish can be hatched, reared and transplanted back into these waters.

The primary brood source for kokanee eggs can be found at New Fork Lakes north of Pinedale. In August each year the department's spawning crew installs a fish trap across the inlet of New Fork Lake. During trapping operations crews capture and handle a thousand fish or more and obtain somewhere between 500,000 to one million eggs.

The spawning operation usually lasts from four to six weeks with actual spawning being conducted anywhere from once a week to almost daily during peak spawn. Winged fences across the creek guide fish into a cage trap. Males and females are handled separately with eggs being collected from each female and milt, or sperm, being collected from the males. The two are combined in bowls on the spot to ensure proper fertilization of the eggs.

Almost daily, depending on the catch, eggs are transported to one of the department's fish hatcheries, usually Auburn Hatchery in Star Valley. There the eggs are hatched and reared until the following summer when they will be stocked as fingerlings, approximately a three inch fish.

Every June, some 20,000 young kokanee are stocked at the inlet of New Fork Lakes to ensure they will continue to return there to spawn.

For most of their life, kokanee salmon are a bright silver color typical of most salmonids, but when they reach mature spawning age they become a brilliant red and develop the characteristic hooked jaw and humped back.

Spawning age for females is typically 3-4 years old and 2-3 years old for males. As with all the Pacific salmon, they die after spawning. Conversely, trout survive spawning and spawn each year for several years.

Surprisingly kokanee salmon do not eat other fish. They feed primarily on tiny aquatic life called zooplankton. For this reason they are generally not disruptive when introduced into waters with other fish populations. In fact kokanee were originally introduced to New Fork Lakes in 1976 to serve as a forage fish for lake trout and increase angling diversity. By 1989 the kokanee population had taken off and fish were attempting to spawn in the headwaters. At that time fish managers were able to collect their first eggs. To this day New Fork Lakes continues to be an important part of the Game and Fish Department's Fish Culture program, serving as the primary egg source for all the other kokanee populations in the state.

Outside the spawning period kokanee are very sporting and good to eat. During spawning, they do not eat and actually start to absorb their internal organs in order to survive and their meat does not taste as good. A good sized kokanee salmon might be 20 inches or more. Most anglers will find success trolling for suspended schools of fish in the spring and summer months.