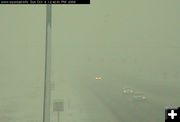 Riverton

View from the Riverton webcam Sunday afternoon, October 4th.

Wintery weather descends on Wyoming
October 4, 2009
Colder, wetter weather is moving across Wyoming this week bringing snow to the high mountains. The National Weather Service has issued winter weather advisories, warnings and watches for much of the central and northeastern portions of the state into Monday.

Pinedale area
The Pinedale area is expected to see a mixture of rain and snow Sunday and Monday, with temperatures warming up a bit Tuesday and Wednesday. Possible new snow accumulations of 2-4 inches possible for the Pinedale area overnight. Daytime temperatures will be in the low 40s. Nigh-time temperatures will drop to the low 20s.

Absaroka Mountains, Cody, Dubois, Lander, Riverton areas
Snow accumulations of 12 to 18 inches are expected on the east facing slopes of the Absaroka Mountains between Sunday and Monday. Six to twelve inches are possible along the east slope of the Wind River Mountains. The Chief Joseph highway and South Pass will become slick and snow covered. Snow, heavy at times, will continue into Monday with this system. Travelers should be prepared for snow-covered roadways and icy conditions in places. Visibility may be sharply reduced in heavy snow. East winds will be gusty at 20-30 miles per hour creating areas of blowing snow. Use caution when driving in these areas Sunday through Monday.