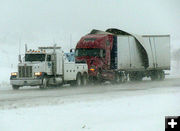 Wrecked Truck on I-80

A wrecker removes a truck from a wreck at approximately mile marker 332 on Interstate 80 on Wednesday, October 28, 2009. WYDOT courtesy photo.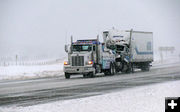 Another wrecked truck

A wrecker removes another truck from a crash at approximately mile marker 332 on Interstate 80 on Wednesday, October 28, 2009. WYDOT courtesy photo.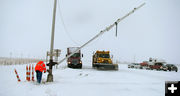 Opening the highway gate

Dave Holeton, a WYDOT maintenance crew leader out of Laramie, raising the gate to allow traffic to run south on US 287. WYDOT courtesy photo.


Winter driving requires extra caution
by Wyoming Department of Transportation
Original post October 28, 2009 | Updated January 31, 2012

Editor's Note, January 31, 2012: We've updated this story with links to more pages with good additional information. See Related Links at the end of the story.
_________________________________________
Original post, Oct. 28, 2009:

A major winter snowstorm hitting Wyoming today has closed many Wyoming roadways, and winter driving strategies courtesy of the Wyoming Highway Patrol may improve your safety if you're forced to drive during and after the storm.

"During a storm event, if you don't have to drive, don't," said Cody Beers, Wyoming Department of Transportation public relations specialist in Riverton.

What follows are answers to frequently-asked questions concerning road closures, winter vehicle trouble, winter driving on bridges, ground blizzards and whiteouts, and tips for vehicle handling.

How are road closures handled in bad weather?
The Highway Patrol, WYDOT, police and sheriff's offices all have authority to close roads whenever they consider it necessary for public health or safety. During the winter, this means for ice, snow, poor visibility and other hazardous driving conditions. Sometimes resulting roadblocks may be unmanned. However, the penalty for passing a road barrier is the same whether a WYDOT employee is there or not. Remember that although conditions may be favorable at the closure gate, a completely different situation may exist only a few miles down the road.

So, how much will I get fined if I go around a road-closed sign or gate?
Violating a road closure is a misdemeanor with a penalty of as much as $750 and jail for up to 30 days. But the legal penalty amounts to getting off easy. A very possible consequence of running a roadblock or ignoring the chain law is becoming stuck or stranded and developing hypothermia or even freezing to death.

If I do run into winter trouble, what should I have with me in my car?
Stay in your vehicle until help arrives. The last thing you want to do is try to walk to safety. Out in freezing elements, a person can fall victim to hypothermia and much worse in a very short time. Before traveling any significant distance in wintertime Wyoming, make sure you have an emergency first-aid kit that is well stocked with medical supplies and bandages; a set of tire chains that fit; a shovel and small bag of sand to use if your vehicle gets stuck; and a snow brush, ice scraper and can of de-icer to use on frozen door locks and wiper blades. It's very important to have blankets and dehydrated foods, in case you get stranded for an extended period. Also, have some flares and flashlights for nighttime emergencies and booster cables in case of a dead battery.

I've heard bridges can be dangerous. How so?
At bridges and similar areas such as overpasses, on high fills, in deep cuts and near snow fences, the highway can remain icy longer so that transitions between dry, wet and slippery conditions often exist. Similar situations can occur at the ends of guardrails and median barriers. So watch for ice where it can remain even after the sun comes out.

I've heard a lot about "ground blizzards." How do you drive in a whiteout?
The best advice is to use extreme caution and try to keep moving. Icy roads topped by a blowing ground blizzard do make for double trouble. Slow down, of course, but also keep moving and don't panic. Here also, the cardinal rule is not to do anything quickly. If you do lose your bearings, roll down the window and look on the downwind side of the car to determine where you are on the road, either by the center stripe or the edge of the road. The reason you should keep going, of course, is because anyone coming up behind you will not know you are ahead.

What are the best things to remember when driving in stormy weather?
First, realize that highways in wintertime Wyoming can quickly become slick and treacherous and regularly touch your brakes to test for traction. When you realize it is getting slick, remember the rule is to not do anything quickly. No quick starts, no quick turns, and no quick stops. All can result in a vehicle out of control. When starting, accelerate slowly with your front wheels pointed straight ahead. You can also use second gear or "drive" in an automatic, for slower and therefore safer starts. When you do get going, keep your speed down and increase following distances behind any vehicles in front of you. A four-second gap or more is a good interval on a slippery highway. When it's time to slow down, apply manual brakes by pumping them in measured fashion about once every second. Apply anti-lock brakes with steady pressure. An ABS system does the pumping automatically. Locked wheels and skids also typically result when drivers jam on conventional brakes. If you do begin to skid, gently turn into the skid and ease your foot off the gas until you regain control.

What should I do to get my car ready for driving in winter Wyoming?
There is much you can do. The most basic and essential tips include: tuning up your car and making sure your brakes are working correctly and your tires are at normal air pressure. You should also replace old windshield wiper blades and add wind-shield anti-freeze to window cleaning fluid. And be sure to keep the fuel tank full. Running out of fuel is a calamity that's easy to avoid. Change your car's oil to a lighter, winter weight and make sure all fluids are kept at full level. Also check lights and turn signals. In the winter, days are shorter. You'll need lights going to and from work. Keep all lights free of ice and snow, and use low beams when driving through blowing snow. Additionally, putting sand bags or concrete blocks in the trunk doesn't necessarily increase traction. In fact, extra weight may increase the danger of skidding, especially if it is not tied down or if it is arranged so that the vehicle's weight is not distributed evenly.

I've heard about winter storms in Wyoming. What about them? Do they affect driving much?
Yes, they do occur, and, yes, they certainly can impact driving. Winter storms strike quickly across Wyoming's high plains and mountain ranges. When they do, driving conditions can quickly deteriorate and become, at best, a challenge. At worst, passing storms can cause some treacherous travel situations, especially for motorists who aren't prepared.

Motorists can also get this information by dialing 1-888-WYO-ROAD or logging on to WYDOT's road information website at www.wyoroad.info.




Related Links