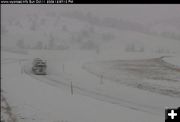 South Pass

View from the east-facing South Pass (WYO 28) WYDOT webcam on Sunday afternoon, October 11.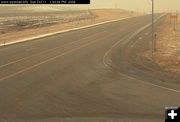 US 191 and WYO 352

View from the US 191 WYDOT webcam near Trappers Point, between Pinedale and Daniel, on Sunday afternoon, October 11th.


Snowy weather continues
by Pinedale Online!
October 11, 2009

The National Weather Service (NWS) in Riverton is continuing the Winter Weather Advisory for parts of western and central Wyoming through 6:00 PM Sunday. This includes the towns of LaBarge, Big Piney and Farson, while a band of light to moderate snow continues to move west to east across the Salt River and Wyoming Ranges. Five to ten inches of new snow is expected over the western Wyoming mountain ranges. South Pass is expected to get two to five inches of snow. Travelers should be prepared for snow-packed and slick roads with white-out conditions over South Pass. Use caution while driving.

The NWS has cancelled the Winter Weather Advisory for the areas of Pinedale, Rock Springs, Afton, Thayne, Dubois, Lander, Riverton, Green River. Two to three inches of snow fell Sunday morning. Some light snow is possible through Sunday, but no additional accumulation is expected. Roads will continue to improve and become wet or dry Sunday afternoon as temperatures rise above freezing.




Related Links