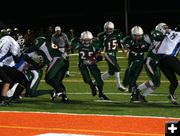 Touchdown!

Devin Call (P25) had a path cleared for him through great blocking by Casey Terrell (P68), August Hallsten (P40) and Aaron Belton (P74), allowing the Wranglers to score their 4th touchdown midway through the 4th quarter of their Homecoming football game against the Lyman Eagles.


Wrangler Coaches:
Mike Gregory, Larry Proud, Brian Brisko, Benji Fullmer.




Scroll down for more photos




Pinedale Wranglers defeat Lyman Eagles in Homecoming win 25-15
by Pinedale Online!
October 18, 2009

The Pinedale Wranglers took on the Lyman Eagles for their Homecoming football game on Korfanta Field in Pinedale on Thursday, October 16th. The Eagles put on a good fight, but in the end the Wranglers overpowered them with a 25-15 victory.

Senior Jacob Brunette got the Wranglers on the scoreboard first with an interception run for a touchdown early in the first quarter. The point after was blocked, leaving the score 6-0.

Lyman responded shortly thereafter with their own touchdown and two-point conversion to get ahead of the Wranglers 8 to 6.

With just under one minute left in the first quarter, Senior Devin Call scored on a 1 yard touchdown run after a long pass from JW Jensen to Landon Wells. Senior Chris Pflughoft made a good point-after kick, putting the Wranglers ahead once again 13-8.

Halfway through the second quarter, August Hallsten ran a 7 yard pitch for a touchdown to push the Wranglers further ahead, 19-8.

The match-up went back and forth with a scoreless third quarter. Late in the 4th quarter Devin Call took advantage of the path created by great blocking by Senior Casey Terrell, Junior August Hallsten and Junior Aaron Belton to score the Wrangler's 4th touchdown. Determined to have a Homecoming win, the Wranglers denied the Eagles any more scores on the board.

Photos by Clint Gilchrist and Dawn Ballou, Pinedale Online!