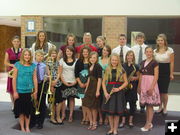 Honor Groups

Photo courtesy Sublette County School District #1.


Pinedale Middle School Musicians at District Honor Band and Choir
by Sublette County School District #1
October 26, 2009

On Saturday October 24th, eighteen Pinedale middle school musicians traveled to Evanston to perform in the Wyoming Southwest District Middle School Honor Band and Honor Choir. They were selected from nine school music programs in the area by the recommendations of their school band directors and choir directors. After practicing all day they performed a concert for the public in the Evanston Davis Middle School Auditorium.

The director of the 82-member honor band was Richard Garcia. Camille Blackburn was the director of the 87-voice honor choir. Ms. Blackburn directs choirs in the Bonneville School District in Idaho Falls, Idaho. She is also the current President of the Idaho Music Educators Association. Mr. Garcia is the director of high school bands in Evanston, Wyoming.

Middle schools participating were Evanston Davis, Evanston Middle, Lyman, Mt. View, Kemmerer, Cokeville, Afton, Big Piney and Pinedale.

Students in the honor choir from Pinedale were: Bailey Lozier, Heather Grossman, Eliza Wolf, Arista Ferguson, Abi Moller, Savannah Mitchell, Annie Jones, Baylee Buchanan, Hana Patterson, Chase Anderson and Klint Choate. The Pinedale students in the honor band were Jamie Lowham, Abby Nelson, Ryanne Stevie, Grace Trosclair, Sonya Legerski, Emily Trosclair, and David Rule . These students are under the direction of Gena Anderson – Choir, and R. Craig Sheppard – Band.