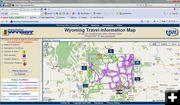 WYDOT map

Graphic from the WYDOT Wyoming Travel Information website.


New WYDOT travel conditions map online
Has travel alerts, road condition updates, construction info, more
by Wyoming Department of Transportation
October 20, 2009

Just ahead of another winter season in the Cowboy State, WYDOT has rolled out another improvement to the Wyoming 511 Travel Information Service.

Now available on the 511 Web site at www.wyoroad.info is a new travel conditions map. The new map integrates travel alerts, road condition updates, construction information, Web camera images and automated weather station data. Plans call for more information items to be added to the map in the future, including rest areas and the messages posted on electronic signs around the state.

Highway routes are color-coded to indicate current surface conditions including "dry," "wet," "slick," "slick in spots," or "drifted snow." Color codes are also used to show road closures and road sections where more than one surface condition is being reported. Another set of color codes is used to indicate atmospheric conditions such as "rain," "snowfall," "fog," "blowing snow," "strong winds," or "reduced visibility."

The map also depicts highway sections closed either seasonally or temporarily due to hazardous weather or crashes. The application uses a Google map interface and has full zoom and pan capabilities.

Distinctive icons mark the locations of Web cameras, roadside weather reporting stations and active construction projects. Users can easily turn "on" or "off" any of the various report categories.

Viewers also can opt for a low bandwidth version of the map. This option uses a fast-loading "static" map to accommodate those who are using small wireless handheld devices such as the "Blackberry," are on slower "dial-up" networks, or are equipped with older Internet browser versions.

The larger, full-function map works best for viewers who have later version browsers with medium to large monitors operating on a moderate to fast network.

Clicking on a road section will display a pop-up of the road surface and atmospheric conditions.

A mouse click also provides a digital image of conditions drawn from any of the 46 Web camera locations now available. Clicking on one of the 36 weather station locations now available produces a readout that includes air temperature, humidity level and wind speeds. Hovering over a weather station or alert icon displays abbreviated information, while clicking on the icon produces a full summary.

Construction project information includes a summary of work being undertaken, the length and location of project, scheduled completion date and contact information for the supervising engineer.

The 511 Travel Information Web site continues to present surface conditions and weather information in text form, using tables pertaining to each of WYDOT's five field districts.

In addition, links are available to other 511 Travel Information service maps which display current weather, temperatures and radar images, as well as width, height and weight restrictions in effect. Similar road and weather reports from surrounding states are also readily accessible.