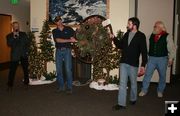 Gayle's Wreath

Honis Luther and Richie Strom, from Wind River Brewing Company (formerly Bottom's Up Brewery), hold the Gayle McMurry Kinnison Memorial Wreath during the 2008 Wreath Auction. Jay Fear (far left) was auctioneer. American Mountain Man Mike Powell (far right) came over from Idaho Falls to attend the event and helped out as a spotter. The wreath is brought back each year to be reauctioned to benefit the Museum. In 2008 there were more than 50 wreaths, swags and table decorations entererd into the Wreath Auction benefit, all donated by members of the community to help the Museum.

Museum Wreath & Chocolate Auction Dec. 4
Annual fundraiser for the Museum of the Mountain Man
October 12, 2009
The Museum of the Mountain Man will host their 16th Annual Holiday Wreath & Chocolate Auction on Friday, December 4th. The event is the major annual fundraiser for the Museum in Pinedale.

Each year individuals, organizations and businesses create unique and creative wreaths, swags and chocolate delights and donate them to the Museum for this holiday event. The creations are sold at a live auction with lively bidding.

The chocolate creations are sold by silent auction. There is a special Championsí Category for the most creative and elegant wreaths. All proceeds benefit 2010 Museum programs and exhibits.

One of the special wreaths in the auction is the Gayle McMurry Kinnison memorial wreath. Shell Oil Company started a tradition of buying the wreath and then donating it back so it could be re-auctioned for the cause. Today, a condition of buying this special wreath is that whoever buys it must bring it back again the next year, and in perpetuity, freshened up with new greenery and decorations, to be re-auctioned to benefit the museum. Gayle Kinnison was a wonderful supporter of the Museum and its programs, and this wreath is a tribute in commemoration of her kind heart. She passed away in 2006 and will be dearly missed by our community.

The Museumís Holiday Wreath and Chocolate Auction event is a chance for people to get beautiful, custom-created holiday wreaths, swags and table decorations and help the Museum with this fund-raiser. Refreshments and drinks are provided at the event, and the bidding can get progressively more entertaining and competitive as the evening goes along and bidders have fun trying to outbid each other for the creation they want the most.

Anyone who is interested in participating in this yearís wreath auction is invited to contact the museum at 307-367-4101 or e-mail Museum Director Laurie Hartwig at director@mmmuseum.com

See the links below for more information about the Museum of the Mountain Man and to see many photos from last yearís Wreath Auction.