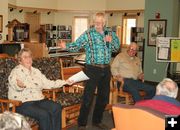 Lumbering talk

Connie Binning, Perry Binning, and Bob Dew gave a presentation about lumbering and tie hacking in the Upper Green.





Scroll down for more pictures




Lumbering Talk
by Dawn Ballou, Pinedale Online!
October 7, 2009

Perry Binning and Bob Dew gave a talk on Wednesday, Oct. 7th at Rendezvous Pointe about historic lumbering in the Upper Green River Valley.

The Binning family has lived in the Upper Green River Valley for many years, and their property is very close to remnants of historic tie hack camps from the late 1800s and early 1900s.

Bob Dew operated a sawmill operation for many years in Pinedale. He has spent many years learning about other historic sawmills that operated in the area during the early settlement years.

The talk was a presentation of Rendezvous Pointe senior center in Pinedale.





Related Links