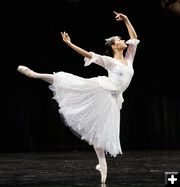 Cinderella

State Street Ballet performs in Pinedale Wednesday, October 14th in the Pinedale Auditorium.


Cinderella Oct. 14
PFAC presents State Street Ballet for opening performance of the season
by Pinedale Fine Arts Council
October 6, 2009

The Pinedale Fine Arts Council is proud to present The State Street Ballet Company performing an original production of Cinderella on Wednesday, Oct. 14 at 7:00 p.m. in the Pinedale Auditorium. This performance of the classic fairy-tale will officially kick off PFACís 2009-10 season and will feature student dancers from local dance schools Express Yourself Dance Company and Danielleís Dance Academy.

State Street Ballet is a vibrant, innovative professional dance company based in Santa Barbara, California. Founded in 1994, the company combines the rigors and timeless beauty of classical technique with updated looks, special effects and digital technology, producing original works that satisfy todayís diverse audiences. State Street is led by acclaimed artistic director Rodney Gustafson whose vision, energy and mastery of the classics is propelling State Street to explore new and untapped areas of entertainment.

Tickets for the Oct. 14 performance are now on sale ($13 adults/$7 students) and are available at Rock Rabbit, Pony Express Photo, The Cowboy Shop, Office Outlets, the Big Piney Library and at the door the evening of the performance. PLEASE NOTE: Tickets are $2 extra at the door. PLEASE ALSO NOTE: All PFAC season ticket performances will now begin at 7 p.m.

State Street Balletís production of Cinderella is presented by the Pinedale Fine Arts Council with support from The National Endowment for the Arts which believes a great nation deserves great art, The Wyoming Arts Council, The Western States Arts Federation, Sublette BOCES, SCSD #1, The Sublette County Recreation Board and the Rocky Mountain Power Foundation.

Individual tickets for PFAC season events typically go on sale two weeks prior to each event. Tickets can be purchased at these locations:
Big Piney Library, 106 Fish Street in Big Piney, 307-276-3515
Cowboy Shop, 129 West Pine Street in Pinedale, 307-367-4300
Office Outlet in Pinedale and Big Piney, 43 S. Sublette in Pinedale, 307-367-6763; 306 Budd Avenue in Big Piney, 307-276-5250
Pony Express Photo, 7 West Pine Street in Pinedale, 307-367-3211
Rock Rabbit Coffee, 23 West Pine Street in Pinedale, 307-367-2488

Season tickets can be purchased online at this link: http://www.pinedalefinearts.com/tickets.html
For more information please visit www.pinedalefinearts.com or call 307-367-7322.