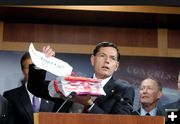 Trust Us

Senator Barrasso holding the Boxer-Kerry Climate Change bill during a recent press conference. Senator Barrasso courtesy photo.


Barrasso: CIA Climate Change Center –The Wrong Priority
by Senator Barrasso media release
October 6, 2009

WASHINGTON, D.C. – U.S. Senator John Barrasso (R-Wyo.) is opposing the Administration's misguided defense funding priorities. Barrasso says the CIA should be combating terrorists, not spying on sea lions.

Barrasso is fighting the Administration's efforts to fund a climate change center at the Central Intelligence Agency (CIA) in the Fiscal Year 2010 Defense Appropriations bill.

"The CIA is responsible for gathering foreign intelligence information for the United States. I don't believe creating a center on climate change is going to prevent terrorist attacks."

"Questions remain. Is this climate change center going to make demands on the current CIA bureaucracy? Will someone sitting in a dark room watching satellite video of northern Afghanistan now be sitting in a dark room watching polar ice caps?"

"We have boots on the ground in the Middle East. Diverting resources to polar ice cap surveillance squanders concentration on national security. The CIA claims to have scarce resources and competing priorities," Barrasso said. "Let's focus on the safety of the American people."

On September 25, 2009, the CIA announced the creation of the CIA Center on Climate Change and National Security. Barrasso's amendment to the FY 2010 Defense Appropriations bill would prevent funds from going to the center.

"This is reinventing the wheel. We need to let the agencies tasked with monitoring climate change do their job. These agencies can provide the CIA with any information they need," Barrasso said.