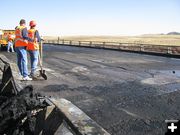 Damaged bridge

Photo by Ross Doman, Wyoming Department of Transportation.


I-80 road update for damaged bridge
Damaged in September 26th accident between Laramie & Cheyenne
by Wyoming Department of Transportation
September 30, 2009

I-80 eastbound at the Remount Interchange 23 miles west of Cheyenne is expected to remain restricted to a single lane with a reduced speed limit of 40 mph for about a month.

A truck crash and fire Sunday, Sept. 27 damaged the bridge, forcing WYDOT to close the passing lane and impose the reduced speed limit.

The crash and heat from the fire damaged the bridge's guardrail, concrete deck, curb and abutment.

The process of designing a project to repair the bridge, hiring a contractor, replacing the guardrail and applying a temporary asphalt pavement overlay is expected to take about a month to complete. That would allow reopening the passing lane to traffic through the winter.

Full repairs, including removing the damaged pavement and applying a new concrete overlay on the bridge deck, will have to wait until next year when temperatures will again be above 45 degrees long enough to allow the silica fume concrete to properly cure.

The crash that damaged the bridge occurred Sunday morning, when the driver of a westbound tractor-trailer combination drove through the median at the Remount Interchange. The truck smashed through the guardrail and onto the eastbound I-80 overpass, where it rolled onto its side and caught fire.

The fire consumed the truck and the load of plastic it was hauling.

The driver was unhurt and the crash remains under investigation.