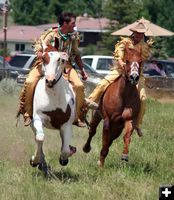 Horse Race

Jesse Early (l) and Lisanne Fear (r) in the horse race.





Scroll down for more pictures




Green River Rendezvous Pageant
by Clint Gilchrist
July 12, 2009

Rendezvous weekend ended as usual with the Green River Rendezvous Pageant. Starting in 1936, the pageant was begun by local volunteers to celebrate the 1836 rendezvous, six of which were held at the confluence of Horse Creek and Green River, near present day Daniel.

The pageant was originally held on the historic rendezvous grounds, but is now held at the Pinedale Rodeo Grounds to accommodate the larger audience.

More than 100 volunteers help organize and participate in the event every year. The presentation is a combination historical documentary and large outdoor play. The addition of dozens of horses, wagons and fast action adds an element of excitement.

Photos by Clint Gilchrist, Pinedale Online!