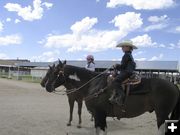 Horse Events

Left to right: McKenna Quirk and Molly Sullivan are ready for their 2008 Western class. Open horse shows at the Fair welcome contestants of all ages. Photo by Carla Sullivan.


Fair Open Horse events welcome entries
New format, new classes, new spirit
by Sublette County Fair
July 14, 2009

Whether you ride English or Western, love to jump or stick to the flats, are seven years old or seventy, the 2009 Sublette County Fair offers plenty of horse show opportunities. A new schedule has provided a relaxed, more enjoyable pace in which to focus on good horsemanship. Events are shorter and extend over three days, July 24 through 26.

The Open English Horse Show steps out on Friday, July 24 at 9 a.m. There will be flat classes and jumping classes, including Hunter Under Saddle, Hunter Seat, Hunter Hack and Equitation Over Fences.

Saturday, July 25 sees Western Performance begin at 8 a.m. There are new classes in this show, including Ranch Pleasure Class and Jackpot Reining. Other classes are Western Pleasure, Western Equitation, Trail and Reining. There is also a new age group, "Over the Hill" (40 plus)!

The Peewee contestants, age nine and under, now have their own Peewee Western Horse Show on Sunday, July 26 at 8 a.m. There will be a Lead Line class and a variety of Walk-Trot classes. There will also be lots of fun prizes.

The mission of the Open Horse Show is to provide a venue for all horse enthusiasts to participate, learn, and have fun in a safe environment. The objective is healthy competition for all ages. Participants are asked to be familiar with AQHA rules.

The pre-entry deadline is coming up fast: July 17. You may enter the day of the event for higher fees.

Events are listed on the Fair Schedule, in the Fair Book and at www.sublettecountyfair.com. For more detailed information, contact Carla Sullivan at 307-537-5473 or christopher004@centurytel.net.