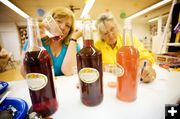 Exhibit Judging

Judges in the Exhibit Hall sample homemade beet and chokecherry wine during the 2008 Sublette County Fair. Photo by Tara Bolgiano.


Contests and Cook-Offs Beckon
Sublette County Fair July 23-August 2
by Sublette County Fair Board
July 8, 2009

The 2009 Sublette County Fair presents numerous opportunities for regular folks to showcase their talents, entertain others, and have fun.

Chocolate lovers can participate in the Chocolate Dessert Bake-Off. Bring your most incredibly edible chocolate dessert to the fair for judging on Saturday, Aug. 1 before 1:30 p.m., and enter one of 4 classes. Cash prizes range from $20 to $30.

The 8th Annual Dean Luce Memorial Dutch Oven Cookoff on Saturday, August 1 is a great opportunity for aficionados of this traditional camp cook's art. Show off your skills and learn new techniques with the "black pot." Prize money is awarded, and the entries become part of a Dutch Oven dinner enjoyed by ticket purchasers. Cooks meet at 9:30 a.m. in the Fairgrounds grassy area.

The Old Hat and Boot Contest is a local favorite. The most well-beaten and encrusted cowboy hats and boots vie for top prize, which is a gift certificate from the Cowboy Shop to help you replace that worn gear. Entries must be checked in at the Fair Office by Friday, July 31 at 7 p.m. Keep in mind that winning entries become the property of the Fair Board. If you got them back you'd just keep wearing the stuff, making a win more predictable each year.

Open Class Hall Exhibits offer a wide array of departments, divisions and classes in which to express your skill and passion. Present your home-grown vegetables, flowers, houseplants or forage. Needlework invites quilters, knitters, lacemakers, embroiderers, and makers of rugs, afghans and tapestries, to name just a few. There are also many culinary divisions, including baked items, preserves, dairy products, honey, and even soap. Arts as well as Crafts attract fascinating entries in many media from all ages and skill levels. Educators may enter student projects. There is also a Special Persons category for the physically or mentally handicapped. If there is something you do that you're proud of and it's G-rated, chances are there's a spot for it in the Exhibit Hall.

For those whose talents run to the performing arts, the Talent Contest is the proper venue. This competition is open to all ages and there is a $25 prize just for entering. Cash prizes of $250, $150, and $75 are awarded for first, second and third place. The Talent Contest takes place on Saturday, August 1 from 3 to 5 p.m. on the Deanne Bradley stage.

If the most talented and charming character in your home is not one of the human inhabitants, enter the Pet Show or Costume Pet Show. Each contestant (that would be you, not the pet) receives a token for ice cream at the Cattlemen's Grill in Big Piney. The Pet Show begins on Saturday, August 1 at 1 p.m. and is followed by the Costume Pet Show. This year, the comedy troupe Fables of the West will host the event.

There are many other open competitions at Fair, including the Welding contest, the all new Demolition Derby, the ever-popular Little Buckaroo Rodeo for kids age toddler to twelve, the completely chaotic and hilarious Pig Wrestling /Greased Pig contest, and many horse, dog, rabbit, poultry and livestock events. Some require entry in advance, observance of rules, an entry fee, or a signed waiver.

For more information about open competitions, see the Fair Book, visit www.sublettecountyfair.com, or call the Fair Manager's office at 307-276-5373.