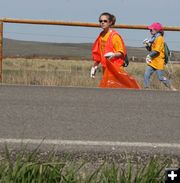 Williams Girls

Kodee and Kristen Williams worked with the Questar Team to clean Tyler Street.


Community Clean Up Day
by Pam McCulloch
May 17, 2009

Community Clean Up Day and Environmental Fair was held Saturday, May 16 around Pinedale. Community members covered the North end of the county and picked up trash. Free breakfast was served by Kiwanis Club, and the Lions Club provided a free barbeque lunch at noon. Several groups had displays in Rendezvous Pointe for the Environmental Fair. The event was sponsored by Ultra Petroleum, Questar, and the Sublette County Chamber of Commerce.

Photos by Pam McCulloch, Pinedale Online!