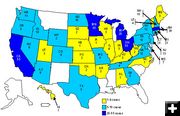 Salmonella Outbreak Map

Persons Infected with the Outbreak Strain of Salmonella Typhimurium, United States, by State, September 1, 2008 to January 9, 2009. Map graphic by CDC.

Two Wyoming residents sickened in Salmonella outbreak
Possibly due to King Nut brand peanut butter
January 10, 2009
Federal officials have not yet identified the cause of a salmonella outbreak striking almost 400 people in 42 states, but state officials in Minnesota said they believe peanut butter may be involved. On Friday, the Minnesota Department of Health said preliminary laboratory testing found salmonella bacteria in a 5-pound container of King Nut brand creamy peanut butter. The tests have not linked it to the type of salmonella in the national outbreak, but additional results are expected early next week. Two people from Wyoming have been sickened by the outbreak.

As of Friday, January 9, 2009, 399 persons infected with the outbreak strains of Salmonella Typhimurium have been reported. The number of ill persons identified in each state is as follows: Alabama (1), Arizona (8), Arkansas (3), California (55), Colorado (9), Connecticut (6), Georgia (5), Hawaii (1), Idaho (10), Illinois (4), Indiana (3), Iowa (1), Kansas (2), Kentucky (3), Maine (3), Maryland (7), Massachusetts (39), Michigan (20), Minnesota (30), Missouri (8), Nebraska (1), New Hampshire (10), New Jersey (13), New York (12), Nevada (6), North Carolina (1), North Dakota (10), Ohio (53), Oklahoma (2), Oregon (5), Pennsylvania (12), Rhode Island (3), South Dakota (2), Tennessee (9), Texas (5), Utah (3), Vermont (4), Virginia (12),Washington (11), West Virginia (2), Wisconsin (3), and Wyoming (2). Among the 380 persons with dates available, illnesses began between September 3 and December 31, 2008, with most illnesses beginning after October 1, 2008. Patients range in age from <1 to 98 years; 49% are female. Among persons with available information, 18% were hospitalized.

Click on this link for more information from the Center of Disease Control on the Salmonella outbreak.

Related Links
www.cdc.gov - Center for Disease Control (CDC)