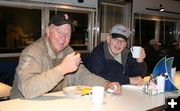 Kent Profit and Guy Decker

Kent and Guy got the first cups of coffee and breakfasts on opening day for the new diner. Kent is the father of diner owner, Cheryl Pierce. He, and Cheryl's husband Vince, brought the diner back from New York using Kent's semi truck.



Scroll down for more photos


Opening Day at the Moondance Diner
by Dawn Ballou, Pinedale Online!
January 12, 2009

The Moondance Diner opened its doors to customers at 5:30 AM on Monday, January 12th, in LaBarge, Wyoming. The first customers to get coffee and breakfast were Kent Profit (Father of diner owner Cheryl Pierce) and friend Guy Decker. More people came in during the morning to experience the opening day and wish everyone well. The first patron to get a sack lunch to go was Geno Munoz of Green River, who works for King Electric in LaBarge. Dennis Rollins, with Wolf Gang of Wyoming - an independent film production company out of Casper, was on hand to video record the events of opening day as part of the Wyoming PBS "Wyoming Portraits" television show series.

Photos by Dawn Ballou, Pinedale Online!