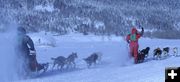 6-Dog race

Christin Heath (#18, L) from Tingree, Idaho, finished 16th. Stacy Teasley (#8, R) from Jackson, Wyoming, won 1st Place in the 6-dog race.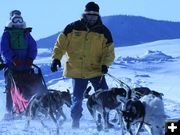 Krista Halsnes

Krista Halsnes (#1), from Steamboat Springs, Colorado, in the 6-dog race. A wonderful BP volunteer helps handle her dogs. Krista placed 2nd overall in the race.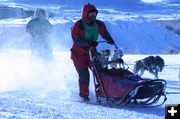 Stacy Teasley

Stacy's (#8, in red) 6-dog team ran the 14-mile race in about an hour. She took 1st place overall.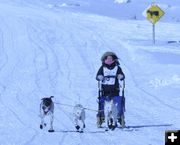 Julia Larsen

Jr Musher Julia Larsen (#3), from Sand Coulee, Montana, placed 3rd.



Thank you to BP for sponsoring the purse for the $8,600 Green River Classic Sled Dog Race! For more info and photos, see www.GreenRiverClassic.com. Scroll down for more photos.


Green River Classic Sled Dog Race
by Pinedale Online; Photos by Trey Wilkinson, Sublette Examiner
January 6, 2009

The 2009 Green River Classic Sled Dog Race was held on Saturday & Sunday, January 3rd & 4th on the Bridger-Teton National Forest in the Upper Green River Valley. Mushers from Montana, Utah, Idaho, Wyoming and South Dakota came to participate in the race. Twenty mushers raced in the 12-dog event and 18 teams participated in the 6-dog race. Three Junior Mushers competed in the youth event.

BP generously contributed $8,600 for the purse. Many of their employees came and helped out with the event. The Classic had 6-dog and 12-dog races, with the fastest combined time from the two days determining the overall winner of each class. The 6-dog class race was 14 miles/day and had a dual start.

In addition to the adult race, there was a special Junior Musher race for kids 12 years old or younger, using a maximum of three sled dogs. That race was 2-3 miles per day, with a $500 purse, generously donated by Continental Kennel Club.

Racers and spectators endured temperatures around 10 degrees on Saturday and braved -25 degrees F on Sunday.

Jackson, Wyoming, musher Frank Teasley took first place in the 12-dog race. His wife, Stacey, won the 6-dog race with the fastest overall time. In the 6-dog race, locals Emily Wade, of LaBarge, took 8th place and Casey Boulter, of Pinedale, placed 11th. Allison Berge, of Glenrock, Montana, placed 1st in the Junior Musher race.

More information about the Green River Classic sled dog race is available on their website: http://www.greenriverclassic.com

Contacts for the race are Casey Boulter of Pinedale, (307)276–4214, e-mail: iditarod00@yahoo.com, or Allan Berge of Glenrock, Wyoming, (307)436–7166, e-mail: deercreeksleddog@aol.com.

12-Dog Race Results:
1. Frank Teasley (#1)
2. Jerry Bath (#2)
3. Allan Berge (#7)
4. Rick St. Onge (#11)
5. John Barron (#9)
6. Jarle Halsnes (#3)
7. Rick Larsen (#5)
8. Laura Daugereau (#8)
9. Chris Adkins (#4)
10. John Bunderson (#6)
11. Lacey Hart (#12)

6-Dog Race Results:
1. Stacy Teasley (#8)
2. Krista Halsnes (#1)
3. Kate St. Onge (#14)
4. Jean Wise (#15)
5. Kayla Corcoran (#7)
6. Matt Mauer (#13)
7. Taylor Berge (#12)
8. Emily Wade (#9)
9. Barry Heath (#4)
10. Jenny Gregor (#16)
11. Cassy Boulter (#10)
12. Danny Corcoran (#11)
13. Al Brackett (#3)
14. Troy Larson (#17)
15. Tabetha Berge (#2)
16. Christin Heath (#18)
17. TJ Schrader (#5)
18. Dillion Lauritzen (# 6)

Junior Race Results
1. Allison Berge (#1)
2. Katrina Adkins (#2)
3. Julia Larson (#3)

Photos by Trey Wilkinson, Sublette Examiner. See the Thursday, January 8th edition of the Sublette Examiner for more photos and story details on the Green River Classic. www.subletteexaminer.com




Related Links