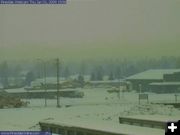 New Year's Day

View of Pinedale on January 1, 2009, New Year's Day, as another winter storm brings more snow to western Wyoming.

Avalanche Warning issued
For Friday, January 2
January 1, 2009
For mountainous areas of western Wyoming

At 6:00 PM on Thursday, January 1, the Bridger-Teton National Forest Avalanche Center issued an Avalanche Warning for the mountainous areas of western Wyoming for Friday, January 2. The warning includes Jackson Hole and Star Valley areas. The Warning included a special announcement from the Teton County Sheriff's Department.
__________________________________________
SPECIAL ANNOUNCEMENT provided by the Teton County Sheriff's Department:
During these times of significant avalanche danger, the Sheriff's Office and Search and rescue would like to remind you that backcountry rescues may be significantly delayed or not possible.

What does this mean to you?

1. A simple broken leg on Teton Pass could mean hours of delay until Search and Rescue can access you with reasonable safety.

2. If you are caught in an avalanche in the backcountry of Teton County, a recovery may not occur until conditions warrant.

The higher elevations of Western Wyoming received about one foot of new snow today. This snowfall was accompanied by 30 to 40 mile per hour winds from the west-southwest that gusted to 66 miles per hour. Temperatures at 9,000 feet started in the teens and rose towards the 20's as the day ended.

New soft surface slabs up to 18 inches in depth began to form today on wind packed snow and melt-freeze crusts. Deep slab instabilities persist. A dangerous hard slab (HS-AB-5-0-6') was explosively triggered in the Far Drift Slide Path at the Jackson Hole Mountain Resort this morning during avalanche hazard reduction efforts. This large destructive slide failed on a buried rain crust from a southeasterly facing starting zone at an elevation of 10,000 feet and ran full track.

FORECAST FOR FRIDAY JANUARY 02, 2009
A strong winter storm will continue to bring moderate to heavy snowfall to the region. The heaviest snowfall will likely occur around midday on Friday and into Friday afternoon as a cold front approaches. Very strong southwest winds will continue and cause whiteout conditions. Temperatures will slowly warm overnight and enough warm air may move in ahead of the cold front to cause areas of rain or a rain and snow mixture in some valley locations.

The general avalanche hazard will be HIGH. Large new snow slab avalanches up to three feet in depth and dangerous deep slab avalanches up to eight feet in depth are likely to release naturally or be triggered by humans. Large, destructive avalanches could run full track. TRAVEL IN AVALANCHE TERRAIN IS NOT RECOMMENDED.

TREND FOR SATURDAY AND SUNDAY (Jan. 3 & 4, 2009)
The snow will taper off late Friday night as bitter cold air moves in. By Saturday, valley temperatures could drop to 15 to 25 degrees below zero. The avalanche hazard is expected to slowly decrease.

WINTER STORM WARNINGS IN EFFECT FOR MUCH OF WESTERN WYOMING THROUGH FRIDAY EVENING, JANUARY 2ND

The National Weather Service out of Riverton advises there is a Winter Weather Advisory for the western Wind River Mountains until 11:00 PM Friday, January 2. A major winter storm will impact western Wyoming through Friday. Three to four inches of new snow fell on the western slopes of the Wind River Mountains New Year's Day.

Strong gusty winds will accompany the snow producing considerable blowing and drifting snow. Snowfall of 1 to 2 feet in the far west mountains with 6 to 12 inches in the valleys is expected by Friday evening. Strong winds are expected to continue Friday across much of the area.

Travel will be impacted by the snow, especially over Togwotee, South and Teton passes. Holiday travellers should check the latest weather forecast and road conditions before venturing out. Call 5-1-1 for the latest road conditions in Wyoming.

Related Links