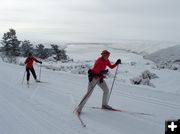 Skiing Skyline Drive

Skyline Drive is being groomed for X-C skiing until the lower trails get more snow. Pictured are Terry Cain (R) and Laurel Barrett. Fremont Lake is in the background. Photo courtesy Bob Barrett, Pinedale Ski Education Foundation.


Pinedale Nordic Ski Grooming Report, December 24
by Bob Barrett, Pinedale Ski Education Foundation
December 23, 2008

Over a foot of new snow was received Monday on upper Skyline Drive. The Ski Foundation is now grooming the road to Elkhart Park regularly with the PistenBully and conditions are excellent. The parking and road barricade have been moved down to just beyond the White Pine turnoff.

The storm at the beginning of this week has also allowed us to begin grooming the meadow, Heart Attack and Tree Loop at Surveyor Park, Kelly Park Loop and the Old Road Trail down to the parking area at Halfmoon Overlook (see link to Pinedale Ski Trails). The snow coverage is thin in spots so caution is required on these routes.

The tie-in trail connecting lower Surveyor Park to Kelly Park is not yet groomed nor is the CCC Ponds Pathway as of this date.

Grooming is done as snow conditions allow. A set grooming schedule will be implemented this season once all of the designated 17-mile trail system receives adequate snow. At that time, we will cease grooming upper Skyline Drive by prior agreement with the Forest Service.