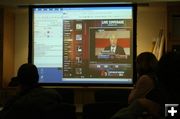 McCain Concedes

Supporters at the courthouse watch an online video stream projection of John McCain's speech conceding the election to Barack Obama.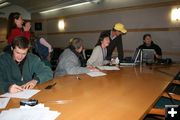 Could it be possible?

Courthouse supporters react when they realize the vote count shows Jim Roscoe ahead of Charles Stough for House District #22 seat by 4 votes.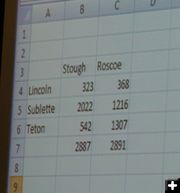 4 votes for Roscoe

There will be a recount of this vote, but unofficial results show Jim Roscoe ahead.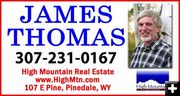 James Thomas

This election results page is made possible in part by sponsorship from James Thomas, High Mountain Real Estate, www.highmtn.com.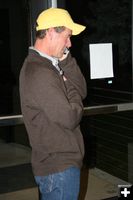 Charles calls Jim

Charles Stough calls Jim Roscoe to congratulate him. They both realize the count is still unofficial.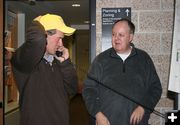 Election Results on KPIN

Bob Rule puts Jim Roscoe on the phone for a live interview which is broadcast on KPIN 101.1FM radio after all the results are in on Tuesday evening at the courthouse.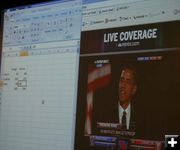 Local and National

Local and national results were watched via internet feeds in the commissioner's room at the courthouse. The room was full of interested public, supporters, candidate Jim Roscoe, and media waiting for each vote count update from the County Clerk's office.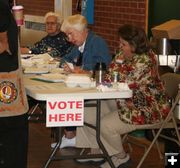 Handing out ballots

(L to R): Jane Warner, Joan Crossley and Nancy Stott check voters and give them their ballots at the Pinedale voting location in the Pinedale gymnasium building.


2008 Election Results
by Dawn Ballou, Pinedale Online!
November 4, 2008

Update 12:15AM: 100% Reporting, all precincts in. Big upset news is that it appears Jim Roscoe may have defeated Charles Stough by 4 votes with all counties data unofficially in. A recount is automatic. Both tax votes failed. See sidebar for photos of the supporters who were gathered at the courthouse waiting for vote result updates from the County Clerk's office.

Summary Report (3 pages, 153K PDF)
Precinct Report (18 pages, 905K PDF)

House District 22: Sublette County votes only
Stough - 2,022 (60.59%)
Roscoe - 1,216 (36.44%)

County Commissioner:
Linn - 2,543 (58.13%)
Skinner - 1,540 (35.20%)

SPET Tax (1% sales tax): FAILS
For - 1,498 (34.24%)
Against - 2,772 (63.36%)

Lodging Tax (3% lodging tax) FAILS
For - 2,055 (46.97%)
Against - 2,181 (49.85%)


---


Total Precincts: 9/9
Total Registered Voters: 3,784 (this number will change as last minute registrations are added into this number)
Total Ballots Cast: 4,375

Sublette County Primary Election Results (August 19, 2008 - Pinedale Online!)


President & Vice President of the United States
Four Year Term
VOTES
John McCain
Sarah Palin
Republican
3,316
75.79%
Barack Obama
Joe Biden
Democratic
936
21.39%
Bob Barr
Wayne A Root
Libertarian
28
.64%
Chuck Baldwin
Darrell I. Castle
Independent


15
.34%
Ralph Nader
Matt Gonzalez
Independent
28
.64%
United States Senator
Six Year Term
 
Mike Enzi
Republican
3,555
81.26%
Chris Rothfuss
Democratic
680
15.54%
United States Senator
Unexpired Four Year Term
 
John Barrasso
Republican
3,554
81.23%
Nick Carter
Democratic
679
15.52%
United States Representative
Two Year Term
 
Cynthia M. Lummis
Republican
2,583
59.04%
Gary Trauner
Democratic
1,456
33.28%
W. David Herbert
Libertarian
166
3.79%
State Senator - District 16
Four Year Term
 
Dan Dockstader
Republican


2,635
78.96%
State Representative - District 22
Two Year Term
 
Charles Stough
Republican
2,022
60.59%
Jim Roscoe
Democratic
1,216
36.44%
County Commissioner
Four-Year Term
 
John Linn
Republican
2,543
58.13%
Courtney J. Skinner
Democratic
1,540
35.20%
Candidate for Public Office
 
For Justice of the Supreme Court, for a regular eight (8) year term, shall Justice William U. Hill be retained in office?

Yes: 2,970

No: 671

For Judge of the District Court of the Ninth Judicial District, for a regular six (6) year term, shall Justice Nancy J. Guthrie be retained in office?

Yes: 3,209

No: 599

For Circuit Court Judge for a regular four (4) year term, shall Judge Timothy C. Day be retained in office?

Yes: 2,991

No: 619

For Circuit Court Judge for a regular four (4) year term, shall Judge Robert B. Denhardt be retained in office?

Yes: 2,888

No: 640

For Circuit Court Judge for a regular four (4) year term, shall Judge Curt A. Haws be retained in office?

Yes: 2,891

No: 586

School District #1
 
Trustee At Large
Four Year Term
 
Greg Anderson
1,623
50.22%
Ken Marincic
1,137
35.18%
Trustee Pinedale 2
Four Year Term
 
Mark E Pape
2,448
75.74%
Trustee Rural 1
Four Year Term
 
Jim Malkowski
1,640
50.74%
Maggie Palmer
1,091
33.76%
School District #9
 
Trustee At Large
Four Year Term
 
David Burnett
762
Kurt Meeks
843
Darcy Turner
704
Natural Resources District
 
Supervisor - Urban
Unexpired Two Year Term
 
Darrell Walker
2,235
Tim Lingle
1,087
Constitutional Amendments
 
Amendment A - Modernize Oath of Office

For
3,257

Against
720

Amendment B - Change Requirement for Petition Signatures

For
1,954

Against
1,803

Special Taxes
 


Renew 3% Lodging Tax in Sublette County for an additional 4 years (90% for travel and tourism promotion; 10% to county, Pinedale, Big Piney and Marbleton for general fund purposes.

For

2,055
46.97%

Against
2,181
49.85%

$60 Million Special Use Sales Tax for a Big Piney Rec Center and Pinedale Community Center

For
1,498
34.24%

Against
2,772
63.36%
Related Links