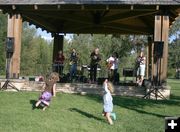 The Fireants

The Fireants performed Caribbean, Zydeco, and Salsa music.


PFAC End of Summer Concert and Ice Cream Social
by Pam McCulloch
August 20, 2008

Saturday, August 16th, the Pinedale Fine Arts Council held an end-of-summer, free-will donation concert and ice cream social. All the proceeds raised went directly to benefiting arts programming in Sublette County.

The "Fireants" performed their unique music at the American Legion Park. Ice cream was the perfect complement to the warm evening.

Photos by Pam McCulloch, Pinedale Online!