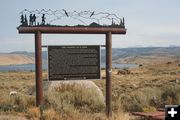 New Sign

The new sign with Fremont Lake and Fremont Peak in the background. Artist John Dickie did the custom metal artwork on top of the sign.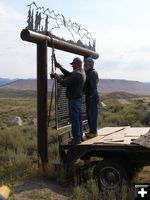 Dale and John

Long time Museum Board member Dale Jensen and welder John Dickie use straps to hold the sign in place for welding.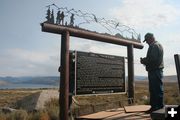 Dale Jensen

Dale removes the straps as John fihishes welding.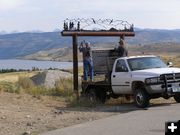 Experience

Dale and John have been replacing parts of these signs for 15 years.


Fremont Lake Historical Sign Replaced
by Clint Gilchrist
August 26, 2008

On Monday, August 25th, Dale Jensen and John Dickie replaced the historical sign at the Fremont Lake overlook.

Over the past couple of years the Museum Board, with funding from the Sublette County County Commissioners, has been replacing the 1960's vintage wooden historical signs throughout the county with new cast aluminum signs.

Starting with the formation in 1936 of the first Historical Society in the state of Wyoming, the citizens of Sublette County have embraced and honored our history with a determined independence streak. While most Wyoming highway signs have now been taken over by the Wyoming Department of Transportation and State Historic Preservation Office, Sublette County chooses to continue to maintain our own historical signs giving them a unique character. The most prominent feature on all the signs and what really gets people to stop, is the metal artwork across the top made by Big Piney welder/artist John Dickie.

At almost 50 years old, the wooden signs are historic in themselves representing the pride our community has always had in displaying our history. Some of the wooden signs have been given to institutions that will preserve and display them. The old Fremont Lake sign, "The Naming of a Lake" will be displayed at White Pine Ski Area, thanks to Stuart and Mary Thompson.

The new Fremont Lake sign still tells the story of the naming of Fremont Lake, but was modified slightly and more information added.

Museum Board members are appointed by the Sublette County Commissioners. As well as maintaining the historical signs in the county, the board reviews budget requests for public money from both the Green River Valley Museum in Big Piney and the Museum of the Mountain Man in Pinedale, and makes recommendations to the commissioners.

Current board members include Dale Jensen, Sue Sommers, Tim Thompson, Michael Klaren and Elaine Ullery. The next time you run into any of the board members or commissioners, Bill Cramer, John Linn and Joel Bousman, thank them for preserving our history.

Also make sure and stop at the other historical signs replaced within the last couple of years:

"A Pause on a Journey" on US 191 at the American Legion Park in Pinedale.

"Of Cattle and Men" on US 189 at the Sublette County Fairgrounds a couple miles north of Marbleton.

"Sand Springs – A Stop on the Oregon Trail" two miles north of Sand Draw where the Lander Trail crosses US 191.

"Astorian Camp" on US 191, seventeen miles north of Daniel Junction and 1 mile south of the Rim.

"Green River Rendezvous" on US 189 on the north side of Daniel.

Photos by Clint Gilchrist and Sue Sommers