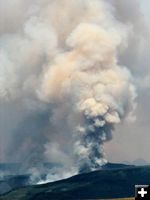 3:15 PM

View around 3:15 PM on Friday from Karen Rozzell's home in Cora.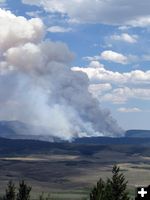 August 1 around 3PM

Photo taken Friday around 3pm. "It shows how intensely the fire is burning up the North facing slope of Willow Creek just above the Ranger Station." This view is from north of the fire looking south towards Cora and Pinedale. Photo by Kirby Hedrick.


Fire updates: Friday, August 1, 2008
New Fork Lakes, Blueberry, Big Sandy, Yellowstone Park fires
by Pinedale Online!
August 1, 2008

Editor's Note: Special thank you to Cade Galley, Karen Rozzell, and Kirby Hedrick for sharing their photos of the fire on Friday.
___________________________________________

New Fork Lake Fire: 3,600 Acres, 2% Contained. Human-Caused (escaped campfire). Burning 19 miles north of Pinedale on the southeast end of New Fork Lake in bug-kill timer. Control lines have been completed from New Fork Lake to Little Flat Top Mountain and north of Willow Creek Guard Station. Burnout operations are ongoing. Structure protection and forest clearing going on around the Forest Service Willow Creek Guard Station as a precautionary measure. Hand crews will be doing controlled burnouts today along the southern perimeter to strengthen control lines and herd the fire in desired directions. Helicopter crews will be doing the same to ignite fuels on the interior. Growth potential is high for this fire. It is spreading east into the Bridger Wilderness area with active fire behavior, torching and spotting. More info on the web on Inciweb: http://www.inciweb.org/incident/1440

Blueberrry Fire: Started yesterday (Thursday evening, July 31). No report yet on size or status. Burning between Burnt and Blueberry Lakes about 13 miles directly east of Pinedale. Human-caused (escaped campfire). Forest Service is using the big Type I helicopter that has been stationed at the Pinedale airport on this fire making water bucket drops this morning (Friday).

Big Sandy area fire: Reported Friday morning near Forest boundary. At last report was 1/10th acre and crews were on it.

Lehardy Wildland Fire: Yellowstone National Park, 505 acres, 0% Contained

The National Weather Service has issued a Red Flag Warning for fire danger conditions today.

For more information on these fires, contact Mary Cernicek, Bridger-Teton National Forest Public Information Officer at 307-739-5564.