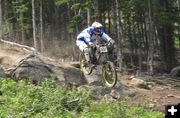 Speed demon

Ben Craner, who now has the first record for the fastest downhill descent, tore down Carbon Trail in just 2:54.61. Here he launches off the last rock in the rough stretch.


Scroll down for results and more photos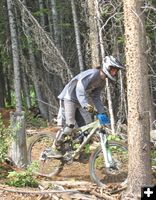 Familiar Territory

Big Piney local Patrick Tolton winds through the trees with ease Sunday for sixth place.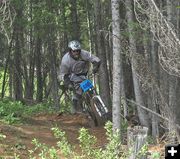 Tight Turn

Torey Jackson, who won the Sport Men 40-49 division, takes a sharp corner in the pines.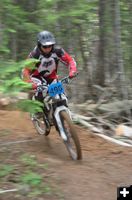 Focus!

Cales Woodruff pedals his way through rough terrain and a winding track.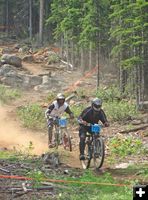 Catch him!

Chad Richards (770) chases down Pinedale local Josh Wilson (772) on his way to a huge win Sunday.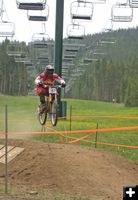 Up, up and a win!

Scott Crabill finishes out his last run down the mountain by flying over the tabletop. He came away with a first-place finish and a time of 3:13.30 in Sunday's downhill race.


White Pine Pow-Ow: Shifting Gears on the Ski Hill
Wyoming State Championship Downhill and Super D Mountain Bike Races at White Pine Resort
by Casey Dean, Pinedale Online!
July 7, 2008

How fast can you descend Fortification Mountain at White Pine Ski Hill and Resort? The best this year went screaming down the track on their bikes in less than three minutes.

White Pine hosted the first-ever Wyoming State Championship Downhill and Super D Mountain Bike Races this weekend as part of the 2008 Utah Race Series sponsored by Go-Ride.com. For several years, the resort has been open to mountain bikers, but this is the first competition it has hosted.

Competitors and family members started camping out or renting White Pine cabins mid-week, and an Independence Day weekend of rock hopping, Bottoms Up beer drinking, cheering and racing ensued.

Jason Brown of White Pine, said they were pleased with the turnout, despite expecting more participants. He said the holiday weekend may have been problematic, but it may have boosted crowds, as many competitors brought families.

Both Brown and race director Ron Lindley expect next year's "White Pine Pow-Ow" to be significantly better attended. Lindley said most Utah Race Series races have 100 to 120 entrants, while this one had about 60.

"I've heard nothing but positive feedback on the trails," said Brown on Sunday.

Lindley said the first two days of practice runs were his initial idea of the excitement over the resort.

"I was riding up on the ski lift, and I was hearing hooping and hollering down in the trees," he said. "And giggling!"

After two days of playing, the racers got serious on Saturday. The Super D Race rolled down Big Horn trail for the most part, providing a long race with an early leg of hard pedaling. Brown said even the fastest bikers took six minutes from top to bottom, and some were on the trail for 12 minutes.

"The Super D just slaughtered people," he said. "We had people walking," Brown said. Results for Saturday's race are below.

Sunday morning's race was the Wyoming State Championship Downhill Race and race number three in the Utah Series.

"The race course [descended] the amazing Carbon trail, and awesome route down through thick forest, gnarly rock gardens and rippin' fast single track," according to the race packet. This is the run that speedster Ben Cramer completed in 2:54.61, winning the Pro Men category with the days' fastest time.

Two locals, Patrick Tolton of Big Piney, and Josh Wilson of Pinedale competed in Saturdays' race. Tolton came in sixth in the Sport Men age 13-18 division, while Wilson came in fourth of the Beginner Men aged 19-39.

Lindley said he hopes to see even more Wyoming racers take part in next year's state championship event.

"It is the Wyoming State Championships," he said.

Photos by Casey Dean, Pinedale Online!
_________________________________________

Super D Results
Pro Women
Addie Stewart
Connie Miskit

Sport Women 19+
Michelle Good
Claudi Jackson

Beginner Men 19-29
Chad Richards

Expert Men 12-18
Naish Ulmer

Expert Men 30-39
Joshua Wright

Expert Men 40-49
Mike Holder
Craig Skinner
Tim Morris

Pro Men
Peter Schaffer

Downhill Race Results
Beginner Men 19-39
1: Chad Richards
2: Chase Clements
3: Bryce Carroll
4: Josh Wilson

Expert Men 13-18
1: Naish Ulmer
2: Nic Hadley
3: Jordan Culp
4: Chris Geaslin
5: Casey Fassett

Expert Men 19-29
1:Bradley Pastir
2: Chris Hadley
3: Tyson Henrie
4: Marshall Roach
5: Riley Barlow
6: Sean Gollub

Expert Men 30-39
1: Lee McGuffey
2: Clint DeMill
3: Scott Neison
4: David Mosher

Expert Men 40-49
1: Scott Crabill
2: Mike Holder
3: Kurt Borich
4: Craig Skinner
5: Kirk Meyer

Pro Men
1: Ben Craner
2: David Beeson
3: Andrew Pierce
4: Aaron Butler
5: Matt Johnston
6: Pete Maniaci
7: Chad Bryce
8: Lance Canfield
9: Emmanuel Pons

Pro Women
1: Connie Misket
2: Addie Stewart

Sport Men 13-18
1: Hayden Smith
2: Cody Butler
3: Riley Olsen
4: Cales Woodruff
5: Eric Schultz
6: Patrick Tolton
7: Daniel Rodosky

Sport Men 19-29
1: Erik Bachmann
2: Nick Bedell
3: Justin Nelson
4: Adam Riser
5: Adam Duncan
6: Brian Curren
7: Allen Weston

Sport Men 30-39
1: Rick Wieloh
2: Robert Maynard
3: Gary Wahlberg

Sport Men 40-49
1: Torey Jackson
2: Michael Woodruff
3: Kent Koodfield
4: Rocky Geaslin

Sport Women 19+
1: Joy Sather
2: Liana Gregory
3: Michelle Good




Related Links