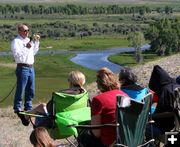 Fred Gowans

Dr. Fred Gowans conducted a tour of the original rendezvous grounds, near Daniel, where Horse Creek joins the Green River - in the background of this picture.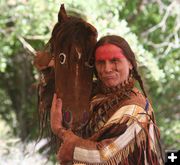 Michael Terry

"Bad Hand" shows his horse head medicine bag, made from a real horse head.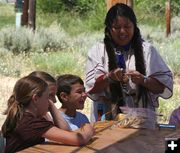 Lapita Frewin

Lapita cuts string to be used to make dream catchers during one of her children's programs.



Scroll down for more photos of activities at the Museum of the Mountain Man.


Rendezvous at the Museum
Museum of the Mountain Man
by Clint Gilchrist
July 13, 2008

Green River Rendezvous Days is always the biggest week of the year at the Museum of the Mountain Man in Pinedale. This year was no exception with as many as three presentations going on at the same time.

It all got started on Thursday evening with a reception, award presentation, and book signing for the second annual Rocky Mountain Fur Trade Journal, followed by a presentation by Journal editor, Dr. Fred Gowans. Friday morning, Dr. Gowans led a tour of the original rendezvous grounds near Daniel, 11 miles west of Pinedale.

Seven articles were selected to be published in the 2008 edition of the Museum's Rocky Mountain Fur Trade Journal. The Journal authors all came to Rendezvous this year and gave presentations on Friday and Saturday afternoon. Subjects included Jed Smith, honey bees, shelters, federal regulation, trapper's cache, Antonio Montero, and John Fremont. For more information on the annual Journal, visit the Museum of the Mountain Man website. Article submissions for consideration to be in the 2009 edition are due January 1, 2009.

Plains-Indian historian Michael "Bad Hand" Terry has become a fixture at Rendezvous Days. His presentations drew standing-room only crowds again this year with many people attending several presentations.

Lapita Frewin's gave several children's programs which allowed kids to build traditional Indian items such as dream catchers and coup sticks.

A dozen members of the American Mountain Men gave presentations all weekend on mountain man clothes, firearms, tools, sign language, beaver trapping, and whatever the audience wanted to know about the day-to-day life of mountain men of the early 1800s. The AMM members also built several examples of mountain man shelters that are now permanent displays on the grounds of the Museum.

The Museum would like to thank their generous sponsors for helping to make all their events possible this year.

Special thanks to Shell Rocky Mountain Production for again sponsoring and staffing the buffalo burger lunch on Friday and Saturday. The proceeds go to help fund the Museum operations.

All programs at the Museum were free due to generous sponsors.
EnCana sponsored Lapita Frewin's children's programs.
Sublette BOCES sponsored Michael Terry.
Shell sponsored Dr. Fred Gowans.
The Sublette County Museum Board sponsored the American Mountain Men, and Rocky Mountain Power was a general sponsor.

Photos and story by Clint Gilchrist