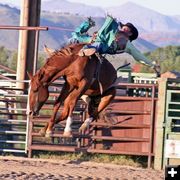 Travis Carlson

Travis Whitman of Big Piney had an 80-point bareback ride on Thursday evening. Photo by Carie Whitman.

Rendezvous Rodeo
July 15, 2008
The three day Rendezvous Rodeo, held during Green River Rendezvous Days, brought in large crowds again this year. It is very popular because most of the competitors are local and it is often the first rodeo for many visitors to Rendezvous Days.

Preliminary rounds of bareback, saddle bronc, bulls, tie-down roping, team roping, calf roping, and barrel racing were held on Thursday and Friday evening. The final round and overall champions were decided on Saturday evening.

Photos by Carie Whitman.

For more rendezvous photo see:
Rendezvous - by Pam McCulloch