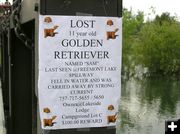 Looking for Sam

Sam was swept over the Fremont Lake spillway. Photo by Bob Rule, KPIN 101.1 FM.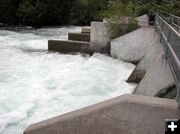 Turbulent Pine Creek

Water flows out of Fremont Lake into Pine Creek. Flows are fast and turbulent at the lake outlet dam spillway. Photo by Bob Rule, KPIN 101.1 FM. Photo taken July 2, 2008.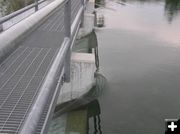 Lake Spillway

Fremont Lake is high with spring snow melt and the warer level is about a foot over the top of the lake spillway. This current is very strong and fast. Sam was swept over this spillway. Photo courtesy Bob Rule, KPIN 101.1 FM, taken July 2, 2008.


Golden Retriever 'Sam' found
Dog did not survive being swept over Fremont Lake spillway
by Dawn Ballou, Pinedale Online!
July 4, 2008

Dog-owner, Carol Davis, called today to let us know that their 11-year old Golden Retriever, "Sam", was found yesterday. He was swimming near the outlet of Fremont Lake on Saturday, June 28th, when he got caught in the swift current of the lake outflow and was swept over the Fremont Lake dam and down into the strong current of Pine Creek. The last they saw him his head was above water and he was struggling against the current. The family put up posters around town requesting anyone who may have found him to please get in touch with them. They posted a $100 reward for his return.

Members of the community have been out searching along the creek for days and following up on reports of found dogs, but none have turned out to be Sam. Searchers finally found him on Thursday, wedged under a log about 200 yards down from the spillway. He did not survive the accident.

A kind property owner let the family bury their beloved pet in a graveside near the creek.

The family is from Virginia and are presently staying at Lakeside Lodge campground. They wish to express their appreciation to the community for their support and to everyone who helped search for Sam. They also urge caution to families who are letting their children swim and play in the water at that same location. Sam was a strong swimmer, but couldn't get free of the strong current and was swept over the spillway. The Davis family warns people to not allow their pets or children to swim or play there and to be aware of the swift current and potentially dangerous situation with the high water flowing out of the lake.